Assault claim AM Mick Bates a 'gentle giant', jury told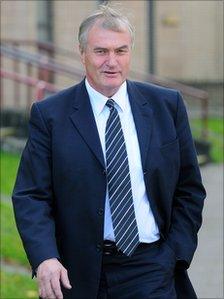 A colleague of an assembly member accused of drunkenly assaulting paramedics has told a court the claims "are totally out of character".
Jenny Randerson described fellow AM Mick Bates as a "genuine" and "disarmingly truthful gentle giant".
Montgomeryshire Liberal Democrat Mr Bates, 62, denies three counts of common assault and public order breaches in Cardiff on 20 January.
His trial at the city's magistrates' court continues.
It began last month and restarted following an adjournment.
It is claimed that police and paramedics were called to Charleston's Steakhouse in Caroline Street after the politician fell down a set of stairs.
They said they found Mr Bates slumped, smelling strongly of alcohol and with a bleeding head.
It was claimed he punched one paramedic in the chest and grabbed another violently by the wrist.
Later, after being taken to hospital, it is alleged he threatened hospital staff with a pair of scissors.
His defence argues that Mr Bates was briefly suffering from a rare condition called automatism at the time of the incident which would mean he was neither aware nor responsible for what he was doing for medical reasons.
Liberal Democrat AM Jenny Randerson told the court on Wednesday he was a "genuine" and "disarmingly truthful gentle giant" who had never been angry in her company.
She said she had known Mr Bates for 12 years and that he was a totally dedicated and committed assembly member and constituency worker with a formidable reputation as an environmentalist.
The allegations against him were "totally out of character", she added.
"I have seen him drunk several times," she said.
"He talks a lot and he makes up the most dreadful poetry, which is excruciatingly bad, but he makes friends when drunk.
"I have never seen him unable to stand or unable to behave in a reasonable manner."
The court also heard from the defence's expert witness, neurologist Dr Christopher Gardner-Thorpe.
He said Mr Bates has suffered a severe head injury after falling head over heels down the stairs outside the restaurant in Cardiff city centre sometime around 0200 GMT.
Dr Gardner-Thorpe said: "Mr Bates could have been functioning without being aware of his actions.
"It is highly likely that [the head injuries] modified his behaviour."
He added: "Mr Bates' behaviour might have been modified by his dislike of hospitals, the alcohol contributed something but the head injury probably contributed a significant amount to the change in behaviour."
Defence solicitor Stuart Hutton asked Dr Gardner-Thorpe whether it was possible to describe Mr Bates' behaviour that night as: "The lights were on but nobody was at home?"
Dr Gardner-Thorpe answered: "Yes. That's one way of putting it."