Salt bins stolen from roadsides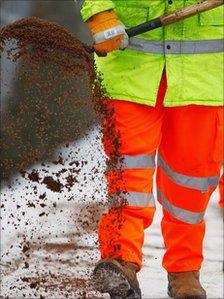 Stocks of road salt from bins and even the bins themselves have been stolen from roadsides as a warning for supplies to be used sparingly is made.
The yellow bins are placed on roadsides to help residents clear ice and snow off roads which are not gritted.
But councils in mid and north Wales have complained that some have disappeared in recent weeks.
In Wrexham, there have been reports of pick-up trucks being used to steal salt bins.
Denbighshire, Wrexham, Powys and Ceredigion councils claim some entire stocks are being taken out of the bins.
In Powys, the council has used half of its entire road salt stock as freezing temperatures continue to grip the UK.
The county's residents have been asked to be responsible when using roadside grit bins to help conserve the product.
Councillor Geraint Hopkins, who is responsible for roads, said: "I urge people to use precious resources sparingly and also to be vigilant.
"There have been isolated cases where entire bins and dumps have been taken. We will not be able to replenish supplies until we get additional stock and road conditions improve so its in everyone's interest to use these appropriately."
Thefts of salt have been widely reported in Denbighshire as well.
A local authority spokesman said: "As a highway authority we find such actions deplorable as it then severely restricts the ability of law abiding residents to treat areas in their vicinity.
"Denbighshire takes such thefts seriously and would ask the public to report anything that they view to be suspicious so that such activity can be followed up."
Related Internet Links
The BBC is not responsible for the content of external sites.