Welsh Tories want budget cuts to protect NHS spending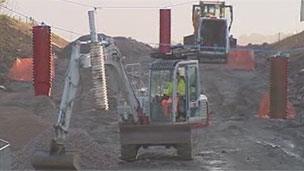 The Welsh Conservatives have published their three-year spending plans, protecting the health budget by making cuts elsewhere.
It means bigger cutbacks than those proposed by the assembly government, with economy and transport cut by 30%.
The party says it would postpone some road building projects and make a further 1.5% cut in council budgets.
And they propose axing the plan for Welsh students to pay lower fees than their counterparts in England.
Under the Welsh Assembly Government's draft budget published last month, the overall health budget was cut by 7.6% in real terms over three years, with the total spending on education and local government falling by a similar amount.
The Welsh Conservatives say it is unacceptable to take money out of the NHS, and commit themselves to protecting the health budget in line with inflation.
However, with health making up 40% of the entire £15bn assembly government budget, other areas face larger proposed budget cuts by the Conservatives to balance the books.
On education, the assembly government is proposing an 8% real terms cut over three years, whereas the Conservatives plans would see cuts of 12% over the same period.
The assembly government had proposed a 21.3% cut in economy and transport, whereas the Conservatives say they'd make cuts of 30%.
However, the party says some of this would be offset by the introduction of a Welsh Public Private Partnership (PPP) scheme which would involve the private sector in capital projects.
The Conservatives would also institute a public sector pay freeze for salaries over £21,000, although it's unclear how much extra money this would raise, with pay settlement running at very low levels already.
Party policy director David Melding AM said: "We have spent the past few weeks composing a considered response to the assembly's draft budget that clearly sets out how protecting health is affordable, possible and, in our view, highly desirable.
"Its implementation will be aided by a number of strategic decisions. These also incorporate our continued war on waste, which includes slashing consultancy fees and bloated assembly government departments, and ending free breakfasts and universal free prescriptions.
"From now until the vote on the assembly government's final budget in February, we will intensively lobby Labour-Plaid to revise its plans and protect the health budget in line with inflation."
The Conservatives' also propose replacing Wales' Communities First regeneration scheme with a voluntary "Big Society programme".
Plaid Cymru leader Ieuan Wyn Jones AM said the announcement demonstrated that the Tories "cannot be trusted to run Wales".
He said: "It is disgraceful that they have chosen to slip this out at the end of term in a press release and that they have refused to publish any detailed figures."
Labour's Alun Davies, AM for Mid and West Wales, said the Conservatives' sums looked like they had been "worked out on a back of a fag packet".
He said: "What we have learnt is that the Tories would follow the ConDem government's lead, by leaving thousands of Welsh students in crippling debt by making them pay for the rise in tuition fees.
"This budget would mean an attack on children and families and the most vulnerable people in Wales. It means that free school breakfast and milk would be snatched away from children."
Related Internet Links
The BBC is not responsible for the content of external sites.