Wales may qualify for high-level EU funding again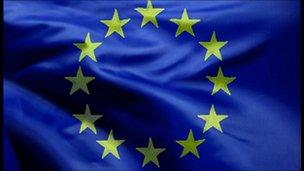 Wales may qualify for the highest level of European funding for the third time.
Official figures suggest the poorest parts of Wales may fail to reach 75% of the average EU levels of wealth creation.
The 2009 statistics shows Wales as a whole has a measure of economic activity (known as gross value added) of just 74.3% of the UK average.
Wealth generation in West Wales and the Valleys for 2008 was down to 62.6% - the lowest level since devolution.
Described in Cardiff Bay as "an ironic mix of good and bad news", Plaid Cymru's MEP Jill Evans told BBC Wales: "Although I would prefer if Wales' GVA figures were above the threshold, I believe that a new round of European funding can be of real benefit to Wales' economy.
"The cuts in public spending in Wales will only heighten the European funding's importance to Wales."
This view was echoed by Labour MEP Derek Vaughan.
"Although these figures are disappointing on the face of it, it means that Wales could once again benefit from billions of pounds of Euro funding.
"A short time ago it seemed that the rules would change meaning Wales would lose out, however after my successful campaign it now seems Wales is guaranteed funding post 2013."
While key decisions about regional EU funding for 2014 onwards have yet to be made, it's likely that qualification for the next round of aid would depend on GVA statistics for a three-year period, such as 2007 to 2009.
The GVA for Wales compared to the rest of the UK in 2007 was 74.6%, 74.1% in 2008 and 74.3% in 2009 - giving an average of 74.3%.
If this level of GVA is reflected for West Wales and the Valleys when compared to the EU as a whole, it is conceivable that the poorest regions of Wales would qualify for the highest level of aid again.
This is despite the investment of billions of pounds of European funding in the poorest parts of Wales since 1999.
According to the Conservative MEP for Wales, Kay Swinburne: "This is a damning indictment of the Welsh Assembly Government that has failed to improve living standards in Wales.
"For Plaid to suggest that this is good news for Wales is appalling - I do not want us to lag behind Romania and Bulgaria - we need to aspire to succeed."
About £3bn in Objective 1 European funding was received in 1999 to 2006 and another £2bn in convergence funding from 2007 to 2013.
Welsh Secretary Cheryl Gillan described the latest figures as "hugely disappointing", and that the statistics, which were released on Wednesday, "show that under the final year of the previous government, Wales was still the poorest part of the UK and the prosperity gap with the rest of the UK is widening".
"The prosperity level in Wales is now below what it was when the Welsh assembly was created in 1999 and is significantly below the level it was at in 1989 under the last Conservative government.
Deputy first minister Ieuan Wyn Jones said: "These figures show how all parts of the UK were hit hard as the first phase of the global recession took hold.
"While relative GVA per head in Wales performed slightly better than the UK as a whole during that period, our share of total GVA remains a challenge."
The Office for National Statistics (ONS) figures reveal that west Wales and the valleys - which benefited from both types of European funding - has the lowest GVA per head of all the comparable regions in the UK.
GVA per head in 2008 was just £12,860 - which is 62.6% of the UK average.
John Bufton, UKIP MEP for Wales, said "Wales could qualify for the higher tier of EU support by default but this is nothing to celebrate.
"EU Regional development policy is clearly failing.
"What we must remember is that this is Welsh taxpayers' money to begin with, and only a small remuneration of the billions we pay to Brussels - money that clearly would be better spent at home, how we see fit."
Final assessments of the performance of the Welsh economy and key statistics to determine future funding for poorer regions are expected to be completed towards the end of 2012.
Related Internet Links
The BBC is not responsible for the content of external sites.