Figures show level of OAP arrests in Wales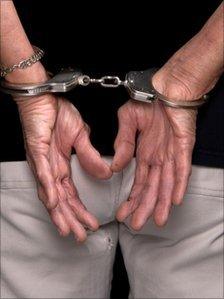 Hundreds of pensioners in Wales are arrested each year for crimes ranging from petty theft to rape, figures obtained by the BBC show.
Over-65s were responsible for nearly 3,000 recorded crimes since 2005, the statistics show.
Among them were a 79-year-old held for murder, an 80-year-old for possessing a firearm and an 84-year-old for rape.
Age Cymru said the figures were of no surprise as older people were just like everybody else.
The BBC requested the details of recorded crime rates for the four Welsh police force areas using the Freedom of Information Act.
Most of the crimes over-65s were arrested for between 2005 and 2010 were for violence and theft, with shoplifting making up the majority of the latter.
Offences against the person (predominantly violent offences) accounted for 35% of total crimes, while theft accounted for 30% of the total. Sexual offences amounted to 12.5%.
It is not known if the arrests came soon after the alleged offences or if they were for historic crimes committed some years earlier.
Since the credit crunch began in 2007 recorded thefts among the over-65s in Wales have risen 5%, from 28% in 2007-08 to 33% in 09-10.
Among the statistics were:
a 78-year-old arrested for rape, a 79-year-old arrested for murder, an 81-year-old arrested for racially aggravated public order offences and a 94-year-old arrested for assault in 2005-06 in the North Wales Police area
a 73-year-old arrested for possessing a blade, an 80-year-old arrested for possessing a firearm and a 92-year-old arrested for dangerous driving in 2006-07 in north Wales
an 84-year-old arrested for burglary in 2007-08 in north Wales
a 79-year-old arrested for sexual assault on a woman in the Dyfed-Powys force area
a 91-year-old arrested for theft, a 70-year-old arrested for drug trafficking, a 79-year-old for fraud and forgery and a 98-year-old for criminal damage in the South Wales Police area.
Michael Levi, professor of criminology at Cardiff University, said it was likely most of the crimes were committed by the same persistent offenders.
He said: "Violent crimes tend to predominantly be a mix of domestics and drunk occasions where people get in arguments and you would expect that to decline over age because older people don't go out as much and men die off before women.
"Theft and shoplifting offences are usually committed by petty and persistent offenders but these figures don't explicitly say whether they are turning to crime in old age through poverty.
"We would expect as costs go up and pensions go down that we would see a little more petty theft but older people are usually afraid of the system and being respectable so are less confident about getting away with it."
He added that it tended to be the more "socially disorganised" people that are responsible for these crimes.
"In spite of what is usually a bleak, far from affluent old age many people face nowadays and distress about lack of savings, it's a myth that elderly people routinely turn to crime. For most of them respectability is very important."
Ruth Marks, the older people's commissioner for Wales said the increase could be explained by the increasing ageing population.
But she said she would welcome any further thorough research into the incidence of crime among the over-65s.
She said: "Pensioner poverty is a real issue in Wales. While I am not aware of any evidence linking crimes by older people to the recession, I would not want to see older people resorting to theft as a result of increasing poverty.
"What concerns me around the issue of older offenders is whether prisons ensure they have equal access to rehabilitative programmes.
"I have heard about older prisoners being unable to access educational programmes and social activities while in prison because there is no support for their mobility needs. This harms their rehabilitation and chances of reintegrating into society on release, which is in no one's interest."
Kingston prison in Portsmouth is one of the few prisons to have an 'elderly wing' with adaptations to help prisoners with mobility needs.
Ms Marks added: "I am also aware of research undertaken in the Netherlands which found that a high proportion of older offenders had undiagnosed dementia, and I would welcome work to increase awareness of this."
Age Cymru said: "People are people and people are all different, while age is a number, not an indicator of how a person will or will not behave."
Related Internet Links
The BBC is not responsible for the content of external sites.