Wales and England - still talking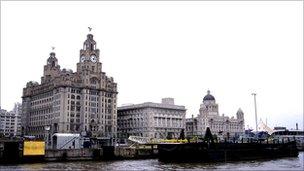 I have an admission to make. I may have spent my entire adult life in Wales, but I was born and raised in England.
I know as confessions come, it's hardly up there with being a secret agent for a former Soviet state, or having a sideline as a circus high-wire acrobat.
But perhaps it does help give an insight into recent research into social networks and Wales.
US experts at the Massachusetts Institute of Technology (MIT) have been analysing some 12 billion phone calls in Britain to create a map of social connections.
And while the Scottish like to talk to people in Scotland, and very few other places, according to MIT, in Wales we are split.
Those of us in north Wales seem to spend much of the time speaking to north-west England, while mid Wales is at ease with its neighbours on the Midlands' borders.
It is only really south and west Wales that keep their phone calls to themselves.
I can see exactly where I fit into the pattern.
I've made this part of the world my home, settling into community life, learning Welsh, despite the ongoing embarrassment of being publicly corrected by one of my young sons.
So when it comes to phone calls, I pretty much exclusively call the rest of my family in the deepest fringes of Manchester.
But for some, the MIT research really isn't a surprise.
"We've been talking to each other for centuries," explained Ben Hughes, from Liverpool.
He considers himself to be pretty much a native Liverpudlian by now, having spent 50 years living in the city.
"At the turn of the last century, there was about 200,000 Welsh speakers here.
"Even in the last census 10-years ago, the Welsh community was still one of the biggest here."
As secretary of a Welsh language community paper that serves Liverpool and Manchester, he said it was clear that links still bind the regions of north-west England and north Wales.
"Liverpool is the first big metropolis you hit outside of north Wales. There has always been a close partnership between us," he said.
"Even today, I have a daughter living on Anglesey, and a grandson. We still have the family links between the areas."
And it's not just the family links. It's institutions.
My wife recounts how she learned to speak English as a youngster, while spending a long month in the care of Alder Hey Children's hospital in Liverpool.
And for many families in north Wales with a seriously ill child, in 2010 they still make that track down the A55 to Alder Hey.
Then there is football - red and blue, Liverpool, Everton and Manchester United are the only colours you'll find on sale at most of the north Wales sports shops.
"The difference between Scotland and Wales is striking," remarked MIT researcher Carlo Ratti.
"Scotland is very separated from the rest of Great Britain: just 23.3% of all call time placed or received there goes to or comes from another part of the country.
"Conversely, Wales, in spite of its unique cultural and linguistic heritage, is well integrated with its English neighbours to the East."
In south and west Wales another picture emerges, forming its own distinct area, less integrated with England, and one of 11 "core regions" of Britain.
And that does come as a surprise to some, including Cardiff blogger and computer programmer Nathan Collins.
He makes a daily commute from the Welsh capital to Bristol every day, and believes the MIT analysis is revealing.
"I'm shocked, if I'm honest," he stated.
"We think of ourselves of being interconnected, with people in Britain speaking to others much further away.
"Yet that doesn't appear to be the case, in telephone conversations anyway.
"We're still sticking with people who are close to home."
"I don't know whether my view is skewed by living in Cardiff, but everything here seems to be very south-centric."
Researchers at MIT hope in the future they will be able to analyse much more than just telephone conversations - bringing in e-mails, internet chat and instant messaging.
Will that bring parts of Wales and England even closer together - or not?
In the meantime, I've a few phone calls to make to Manchester, my sister is promising to cook up some curries - if we can make it through the traffic as the Christmas shoppers from north Wales head for the retail delights of Chester, Liverpool and Manchester's Trafford Centre.
Related Internet Links
The BBC is not responsible for the content of external sites.