Carwyn Jones's first year as first minister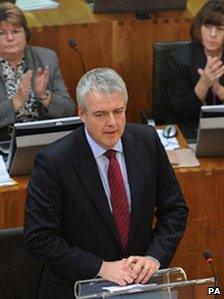 When Carwyn Jones took over from Rhodri Morgan, few people expected a radical change either in the style or direction of government.
Mr Jones had been a loyal cabinet member throughout Mr Morgan's period in office and any policy changes would have to be within the constraints of the coalition agreement with Plaid Cymru.
The differences between Mr Jones's government and his predecessor's have largely been dictated by an event outside the first minister's control - the result of the UK general election.
Mr Jones knew when he took office that he would be leading Wales during tough economic times.
Any doubts he may have had about the economic storms battering Wales were quickly dispelled by the announcement of the closure of the Bosch plant at Miskin just weeks after he took office.
As well as the economic difficulties, the new first minister knew there would be little money or room for the sort of popular or populist initiatives that were a trademark of Rhodri Morgan's government.
The formation of a Conservative-Liberal Democrat government ensured the financial squeeze would be even tighter.
It also meant that for the first time a Welsh first minister had to deal with a UK government and Welsh secretary of a different political colour.
The change of government in Westminster appears to have strengthened the relationship between the two governing parties in Cardiff Bay.
In the run-up to the 2011 assembly elections, friction in Labour's relationship with Plaid Cymru could easily have developed.
Apart from the occasional hiccup though, particularly over Welsh-medium education in Cardiff, Mr Jones seems to have kept tensions under control.
Crucial to keeping Plaid Cymru on-side was the first minister's ability to deliver a referendum on the assembly's powers in advance of next year's election despite what many perceived as foot-dragging by Peter Hain in the last months of Gordon Brown's government.
The elevation of Carwyn Jones also saw major changes on the Labour side of the cabinet table.
Long-serving ministers like Andrew Davies and Brian Gibbons retired to the backbenches while some of Mr Jones's strongest supporters, notably education minister Leighton Andrews, were promoted.
Mr Jones appears to be more relaxed than Rhodri Morgan in allowing both Labour and Plaid Cymru ministers to take the limelight.
That, in turn, allows him to balance the job with the needs of his young family.
The resulting, usually anonymous, accusations of being "too laid back" or even lazy seem to have done little to dent the first minister's popularity.
After a year in charge, a BBC Wales ICM poll suggested that Mr Jones had a net favourability rating of +39% - only a few points lower than Rhodri Morgan enjoyed during his last year in office.
Related Internet Links
The BBC is not responsible for the content of external sites.