Local focus of new Welsh food strategy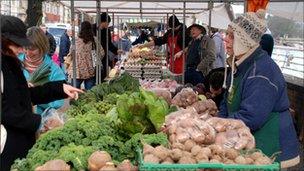 A 10-year Welsh food strategy focusing on the importance of local produce has been launched by the assembly government.
Rural Affairs Minister Elin Jones said it aims to promote quality Welsh produce in Wales and beyond.
She also wants the strategy to help people make healthy choices about what they eat.
But farming unions say they are "disappointed" that not more attention has been paid to its industry.
"People's thoughts turn to food at Christmas time perhaps, more than any other time of the year," said the minister.
"Consumers are increasingly demanding more socially and environmentally responsible food products, with provenance clearly displayed, as well as a greater value and variety.
"This strategy aims to promote the distinctiveness of Wales in terms of its food production base, natural assets, cultural heritage, consumer demands and social priorities."
Official figures estimate that only a third of adults in Wales eat the recommended five daily portions of fruit and vegetables.
A UK government study estimates that diet-related ill health put a burden on the NHS of £8bn a year, with 70,000 premature deaths linked to nutrition.
The minister also reflected that the food chain in Wales is responsible for producing 17% of Wales' greenhouse gases.
"The strategy represents an ambitious step change by incorporating a greater acknowledgement of the wider food system," she added.
The assembly government said it was determined to link food production into how Wales is marketed culturally and to the tourist industry.
The strategy stated that it wants to see initiatives like the True Taste Awards encouraged, for recognising food producers and entrepreneurs.
Food writer and joint owner of the Carmarthenshire restaurant, Y Polyn, Simon Wright, the 2010-2011 True Taste champion, called the new strategy "ambitious"
"I welcome the breadth of its vision and the fact that it doesn't shirk from acknowledging the enormous pressures that face Wales and the world as we look at how we will feed ourselves in the decades to come," he said.
""I'm confident in Wales that we have the talent and determination to meet these tests in a way that can be an example to others."
The former AA Restaurant Guide editor also added: "We need to teach children about food. They need to understand where their food comes from, where to buy good quality food and how to cook it."
However, the Farmers' Union of Wales said it was disappointed by aspects of the strategy.
The union said there was "insufficient consideration" of how farmers and other primary producers could be engaged and encouraged to move into areas offering added value to what they do.
"The FUW believes that it is vital to ensure that farming is fairly represented in the strategy and that value should be added as close to the source of production as possible," said a spokeswoman.
In response, a Welsh Assembly Government spokesperson said it provided "a comprehensive range of support for primary producers".
Related Internet Links
The BBC is not responsible for the content of external sites.