Lord Elis-Thomas attacks S4C authority 'public scandal'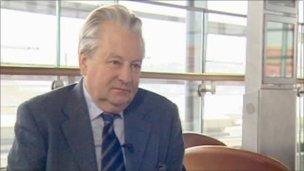 Assembly Presiding Officer Lord Elis-Thomas has said the way the Welsh language TV channel S4C has been run is "a public scandal".
S4C has suffered a traumatic few months culminating with resignation of its chairman earlier this week.
Dafydd Elis-Thomas told BBC Wales it was "bloated, failed and failing" and had let down viewers by infighting.
In October UK Culture Minister Jeremy Hunt revealed the BBC is to take over part-funding for the channel from 2013.
Meanwhile, the authority has said it was "looking ahead to a period of stability".
The crisis at S4C began in July when chief executive Iona Jones stepped down suddenly. She has since begun an employment case against the channel.
And in recent weeks the position of chairman John Walter Jones was in confusion as the authority claimed he had resigned while he said he was staying on till next spring.
This week Mr Jones announced he was retiring immediately. Meanwhile, the appointment of a permanent chief executive has been postponed until Mr Jones' replacement is found.
In an interview for the Politics Show Wales to be broadcast on Sunday, Lord Elis-Thomas said: "The whole thing is appalling.
"They've let down Welsh viewers in the way they've been infighting - the irresponsible way they've run the institution is a public scandal.
"There's a systematic failure inside the organisation. It's out of touch with its viewers. It's a bloated organisation. It's a failed and failing organisation."
He added: "It's shown a lack of capacity among the Welsh-language cultural elite to be responsible for its own broadcasting media.
"I'm absolutely convinced that if S4C was accountable to this place [the Welsh assembly], this wouldn't have happened."
Lord Elis-Thomas compared the authority's response to its difficulties with that faced by the assembly when the then Auditor General for Wales Jeremy Colman was convicted recently of criminal offences.
He said: "He [Colman] was out in less than a week and a new appointment was made quickly, because that's the way that you have to take responsibility.
"Here, we have a major cultural organisation in Wales [the S4C Authority] without a chief executive for another six months and without a proper chair.
Lord Elis-Thomas also criticised the Department for Culture, Media and Sport.
He said: "There's a systematic failure on the part of the sponsoring department, it should have got involved much earlier.
"It's totally irresponsible for a government department or indeed a parliamentary body to allow a public body to behave in this way without effective intervention."
In response the S4C Authority issued a statement saying it "is united in its resolve to tackle the major issues facing the channel".
"S4C's overheads are just 4.5%. It currently employs 155 staff, the lowest number for 10 years. In no way can it said to be a bloated organisation," the statement said.
A DCMS spokesperson said: "S4C is independent of government and we do not intend to intervene in operational matters.
"DCMS's relationship with S4C is enshrined in legislation and there has been no change in that relationship.
"It is for S4C themselves to determine the best way to structure their organisation to meet their statutory obligations."
The Politics Show Wales is broadcast on BBC One Wales on Sunday 12 December at 1200 GMT.
Related Internet Links
The BBC is not responsible for the content of external sites.