Three poles challenge for rugby player Richard Parks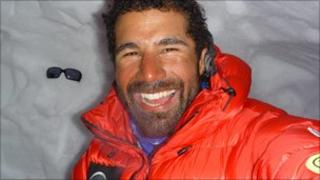 Former Wales rugby international Richard Parks is setting off on global tour to reach seven summits and three poles in seven months.
He hopes to become the first to stand on the North Pole, South Pole and Mount Everest in the same calendar year.
He will follow in the footsteps of Antarctic explorer Captain Scott 100 years ago leaving Cardiff on Sunday.
Sir Ranulph Fiennes, Olympic rower Steve Williams OBE and Marie Curie nurse Jan Suart will join him.
Mr Parks, who has had to give up his rugby career following injury, explained why he was taking up the charity fundraising challenge.
He said: "Lying in bed following my second operation to repair my shoulder, I was suddenly faced with the reality of life without professional rugby, which had been at the centre of my entire adult life.
"I happened to be reading Sir Ranulph Fiennes book, which somehow became intertwined with a phrase from my nan's funeral: The horizon is only the limit of our sight.
"It had an immediate effect on me, helping me find the courage and mental strength to face my fears and my future head on.
"The mental, physical and technical challenges of Polar travel and climbing the seven summits captured my imagination.
"At the very moment I discovered the seven summits, I had decided that I was going to climb them."
The former Wales and Barbarians flanker has been in training for the challenge which will see him visit some of the world's most inhospitable places.
After reaching the Geographical South Pole, he plans to climb Antarctica's highest peak Mount Vinson, before scaling Mount Aconcagua, the highest summit in the Americas.
He will then attempt the peaks of Kilimanjaro and the Carstensz Pyramid in Indonesia before heading to The Geographical North Pole and Mount Everest.
His penultimate climb will be in North America with Mount Denali before completing his challenge with Mount Elbrus in Russia.