Neonatal units receive funding to help premature babies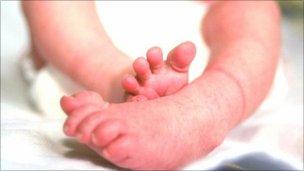 Plans to spend £2m improving specialist care for babies have been announced by Wales' Health Minister, Edwina Hart.
Two dedicated fast response neonatal transport services will be introduced in January and 15 new specialists are being recruited.
The changes come after a report from a special care baby charity claimed Welsh units were failing to meet national standards.
Ms Hart said the plans mark "significant progress" in the field.
The transport service will be in operation for 12-hours a day and will cover both north and south Wales.
The system, run by the Welsh Ambulances Service NHS Trust, will mean critically ill and premature babies can be moved quickly when needed, giving them a greater chance of survival.
Despite this, there are still national concerns that Welsh babies are being failed, as similar services in other areas of the UK run on a 24-hour basis.
The minister also announced the appointment of seven new consultants and eight full time neonatal nurses, all of whom she hopes will "ensure safe and sustainable services".
The neonatal clinical audit system, BadgerNet, is also being used by health boards in Wales, giving access to clinical data to support auditing and planning of services.
The proposed changes, which will cost about £2m, come after a damning report from special care baby charity Bliss, which exposed some of the problems facing Welsh services.
The publication claimed units were over-capacity, under-staffed and failing to meet national neonatal standards.
Ms Hart said: "The assembly government remains committed to ensuring that neonatal services are improved to ensure the best outcomes possible for the most vulnerable babies and their families. My officials will continue to monitor progress closely."
Related Internet Links
The BBC is not responsible for the content of external sites.