Passengers stranded after Lapland day trip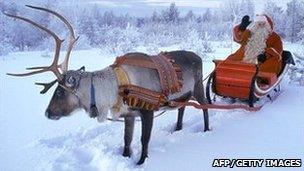 Nearly 190 travellers have been stranded in Finland overnight after flying to Lapland for a day trip.
Families who flew from Cardiff Airport say they are angry at their treatment with one saying it was "horrendous".
Thomson Airways, which was responsible for the flights, said it "sincerely apologised" to passengers.
While travel firm Transun said it was "deeply sorry" and said its staff had not been informed immediately of the travel problems faced by passengers.
One of the stranded passengers, Jan Johnson from Swansea, who paid £1,500 for her trip, explained that on arrival to Finland, their flight was diverted and all passengers had to go on a three hour bus trip to Lapland.
"We arrived at the venue at ten to five and had to be picked up at seven forty five.
"The only thing we got to do was to go and see Santa in his house as we thought that was the most important thing for the children.
"We understand that there was a problem with the aircraft, that can happen at any time.
"But there were little ones with us who required milk, nappies, baby food and the hotel, through no fault of their own, were just not prepared for us."
She said the passengers arrived at the hotel during the early hours of the morning and that information on when they would return to Cardiff was not immediately available.
"The whole experience has been horrendous," she said.
In a statement Transun explained that it had not been made aware of the passengers difficulties with the return flight until well after its representatives had made a 250km journey home.
It said: "On Saturday a flight carrying Transun customers to Lapland could not land because of a faulty aircraft stranded on the runway.
"It is the first time in 20 years this has happened.
"The aircraft landed at an alternative airport and we bussed the passengers to the right location at our own expense.
"Our reps escorted the passengers to their departing flight, which subsequently developed a technical fault.
"Under the rules of engagement once the passengers are on board they are the responsibility of the airline.
"We were not informed of this difficulty until some time later, when our reps had left the area to return to their homes 250km away.
"Our staff returned the following day to assist passengers where possible.
"We are deeply sorry for the problems faced by our customers but it is impossible for us to legislate for technical issues with an aircraft and we make that clear in our holiday contract with passengers, which is standard for the industry."
Thomson Airways also apologised for the problems experienced by the passengers explaining that passenger safety was its "number one priority".
"Flight TOM8228 departed from Cardiff yesterday and was diverted to Kittila, Finland after its planned arrival airport Enontekio was closed after another aircraft blocked the runway following a technical problem.
"The day trip flight was operated by Thomson Airways with 188 Transun customers on board, who were subsequently transported by coach to their destination.
"On boarding the return flight, unfortunately the aircraft was found to have a technical problem, and so the customers were taken to a nearby hotel where they were offered overnight accommodation and meals.
"An engineer and parts were flown out from the UK early this morning. The technical problem is now resolved."
It added that it appreciated that flight delays were frustrating and it wanted to "sincerely apologise to all customers on this flight".
Cardiff Airport confirmed that a flight was expected to arrive from Lapland at 2045 GMT on Sunday.
Related Internet Links
The BBC is not responsible for the content of external sites.