Bridgend woman jailed for theft of OAP's life savings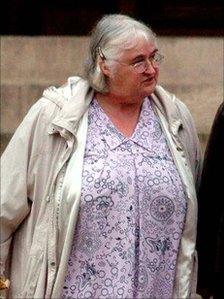 A woman carried out a "wicked and cunning" fraud against a 79-year-old friend, cheating her out of her life savings, a court heard.
Diana Thomas, 63, of Bridgend, was jailed for two years at Cardiff Crown Court for stealing almost £30,000.
The court was told she spent the money on paying off credit cards, a trip to Canada and a post-graduate university course for her son.
Thomas became friends with Mair Harris after meeting her at her care home.
She was found guilty of theft and nine counts of fraud by signing cheques and taking £27,000 from an investment account.
Thomas was granted power of attorney after claiming Mrs Harris, a widow, could not look after her finances.
The court was also told Mrs Harris had no children so named Thomas as the next-of-kin in her will.
When the retired teacher realised what was happening she told police and Thomas, the wife of a pentecostal preacher, was arrested.
Judge Patrick Curran QC told Thomas: "You totally abused your friendship."
He added: "These offences were carried out in breach of a very high degree of trust.
"You committed offences over a year or more and obtained more than £20,000.
"It was effectively the life savings of this then 78-year-old woman."
Prosecutor Chris Rees said it was a "wicked, cunning and calculated course of fraud" against a woman who had trusted Thomas.
"She manipulated Mrs Harris and bled her dry," he said.
Mrs Harris told the court: "I didn't realise she could take money from my accounts - didn't realise what I'd done - I thought they were going to look after me."
The pair had become friends at the care home where Mrs Harris lived at Maesteg, near Bridgend.