Prosecutions rise on NHS violence at Welsh hospitals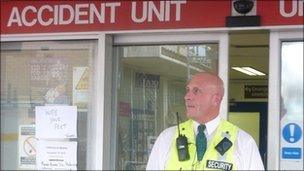 People who are violent or aggressive towards NHS staff in Wales are more likely to be prosecuted than ever before, according to new figures.
In the last six months there were 59 successful prosecutions, compared to nine during the whole of last year.
But figures also show that the level of aggression towards NHS staff is unchanged, with an average of 8,000 reported incidents a year.
Health Minister Edwina Hart has warned the violence will not be tolerated.
She said the figures showed that combined efforts between police, the NHS and the Crown Prosecution Service has led to a rise in court action.
In the six months from April, 131 arrests were made over NHS staff abuse and 62 people were charged.
In the 12 months before, the number of prosecutions was in single figures while health service workers reported 8,343 incidents of abuse.
The rise in prosecutions comes after CCTV cameras were installed last December at four hospitals - Prince Charles in Merthyr Tydfil, Royal Gwent in Newport, West Wales General in Carmarthen and Ysbyty Gwynedd in Bangor.
Five ambulances in Cardiff were also fitted with equipment.
David Francis, chair of Cardiff and Vale University Health Board and the all-Wales violence and aggression champion, said he thought there was under-reporting of incidents because staff had become used to abuse.
"It has always struck me as being ridiculous that our staff should be abused when they are doing their absolute best to care for the people that are abusing them," he added.
The figures are released as emergency services prepare for revelry over Christmas which is expected to reach a peak this weekend.
Ms Hart said: "Any violence or aggression towards healthcare staff is unacceptable, and so I am pleased to see that there has been a rise in prosecutions against those who wilfully attack or abuse NHS staff.
"The figures should encourage staff to see that we will do everything in our power to take action against those who abuse healthcare workers.
"It also sends a strong message to perpetrators that acts of violence and aggression towards NHS staff will not be tolerated."
Earlier this month, Abertawe Bro Morgannwg University Health Board issued more than 1,000 staff working alone in the community "panic button" devices linked to a control centre.
The trial came after the assembly's cross-party audit committee claimed violence and aggression against NHS workers in Wales had been tackled with a "lack of urgency".