Community campaigns to get rid of Welsh place name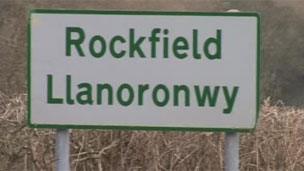 A community is campaigning to get rid of the Welsh place name given to their village.
Rockfield, near Monmouth, famous for its recording studios, was given the name Llanoronwy in 2004 by Monmouthshire Council.
Villagers say the Welsh translation is unnecessary as the name has medieval origins and dates back to the Normans.
A council spokesman said there are no "immediate plans" to change signs in the village.
Roy Nicholas is the clerk of Llangattock-Vibon-Avel Community Council that is leading the campaign to get rid of the Welsh translation.
He says the name Llanoronwy has no historical basis and has written to the county council asking for the Welsh translation to be removed from signs across the village.
"Without any consultation whatsoever the county council imposed the name Llanoronwy on Rockfield," he said.
"We'd never heard this word before.
"There is evidence of the name Rockfield being used on paper in 1566 and the name Rockfield has actually been in use since the 11th Century.
"The few Welsh people round here use the Welsh version of Rockfield without the 'K'.
Mr Nicholas said the name Rockfield has nothing to do with 'rock' or 'field', but is derived from the French word 'rocheville'.
"We weren't consulted as we should have been. Neither was the Welsh Language Board.
"As a Welsh speaker I'm being blamed for introducing the Welsh translation without consulting local people and the Welsh Language Board are being wrongly criticised for introducing it also."
The Welsh Language Board (WLB) said it does not recommend using the name Llanoronwy for Rockfield.
The WLB's guidelines say "pedantic or antiquarian forms and literal or whimsical translations should be avoided unless there is sound evidence that they are in common use both locally and nationally".
Paul Keeble of Monmouthshire County Council said: "The council is currently considering a review of the standardised Welsh Language Board list of Welsh names and the consultation process before changing any existing signage.
"There are no immediate plans to change the Rockfield sign.
"Due to budgetary constraints it is likely that, having agreed on the appropriate naming, signs will only be replaced as part of maintenance requirements."
Related Internet Links
The BBC is not responsible for the content of external sites.