Debate called for on alcohol ban on public transport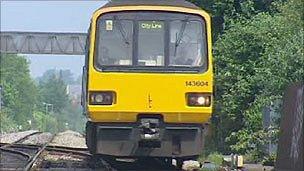 Rail and bus operators have been urged to consider an alcohol ban by a drinks awareness charity.
Alcohol Concern said the majority of assaults on the staff of one train company in Wales were alcohol-related.
The charity has called for a debate to find a solution to anti-social behaviour caused by drinking on buses and trains.
British Transport Police say crime dropped by 35% on one train line following a ban.
Alcohol Concern Cymru policy manager Andrew Misell said drinking in Wales had increased since the 1960s and has impacted on crime and disorder as well as health.
"A range of policies has been tried on various routes, with varying degrees of success, including bans on drinking on some routes in the south Wales valleys, and on trains to sporting events," he said.
"Further afield, we've seen a complete ban on drinking on all public transport in London, and Eurostar setting limits on the number of cans and bottles people can take have with them.
"However, policies of this kind can prove problematic in that they may rely on transport staff to implement them in addition to their other duties."
Alcohol Concern wants the Welsh Assembly Government and the UK government to work together to collect information on how effective current public transport alcohol bans across the country are.
The charity also suggests that on longer journeys consideration should be given to setting specific limits on the amount of alcohol that passengers can have with them.
Mike Edwards, in charge of British Transport Police Cardiff said a ban on the Arriva Trains Wales line from Pontypridd and Treherbert in the south Wales Valleys had proved successful.
"Between 2007 and 2008 we saw a 35% reduction in crime on this line.
"On the Cardiff and Valleys line alcohol plays a high part in anti-social behaviour and crime.
"People on the train want to enjoy their journey without anti social behaviour caused by drunken people."
"It would test resources but we do have officers on duty at key times such as on football days when fans are drinking we have extra staff to provide extra visibility."
Related Internet Links
The BBC is not responsible for the content of external sites.