Swine flu cases confirmed at Cardiff independent school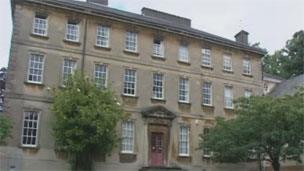 Health officials are investigating a high number of cases of flu, including swine flu, at a school in Cardiff.
More than 120 cases of sickness absence have been recorded at the independent Llandaff Cathedral School in the last two weeks.
Headmaster Stephen Morris said there was a "high number" of pupils ill.
Of a sample of six tested, three were confirmed as having the H1N1 - or swine flu - virus. However, health officials stressed there was no need to panic.
"Over 120 cases of sickness absence have been recorded in the school in the last two weeks, not all of which are associated with influenza like illness," added Mr Morris.
Public Health Wales is investigating the illness at the mixed-sex school which has 650 pupils and caters for students aged three to 18.
Dr Gwen Lowe, consultant in communicable disease control, said: "In order to prevent further spread of this illness parents should not send their children to school if symptomatic, and keep them away until recovered.
"Symptomatic individuals should also be excluded from school attendance for any other events including cathedral services, concerts and other performances."
Laboratory testing were conducted on a sample of cases associated with the school.
These tests confirm that Influenza A (H1N1), also known as swine flu, is circulating in the school.
Health officials said doctors now have vaccines for swine flu and anyone particularly vulnerable can get treated.
There no other known clusters at this time.
Related Internet Links
The BBC is not responsible for the content of external sites.