North Wales carers' charity appeals for men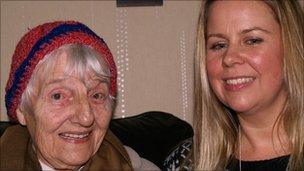 A north Wales charity that helps vulnerable adults says it needs more carers - especially men.
The group PSS specialises in recruiting people willing to take on a paid caring role in their own homes.
It has recently been asked to take on more than 100 new clients in the Conwy area, but at the moment has less than 60 adult placement cares in the region.
It also wants men to consider becoming carers, to meet the demand from an increasing older male population.
"It's not necessarily the first option that people would consider," said Kate Wilkinson, from PSS Wales.
"But with the caring that we do it is very person centred and it gives you opportunity to maybe take a male service user out fishing, golfing - on activities that they would enjoy."
Gareth Jones helps long-term foster older adults with his wife Sue at their home in Llanfairfechan.
He is one of the very few men working for the charity who have taken on a caring role as a job.
"Initially, having heard about the organisation, PSS would come and put people here on respite care for a short period of time," he explained.
"That progressed from there from one person living with us full-time as a member of the family and eventually to what we have now, which is two people living here.
"It can be very rewarding - but demanding."
Mr Jones, who has a background in hospital medical care, said he was never concerned about being a man in what is a predominantly female field of work.
"Both sexes work in the caring professions. I work in a hospital and I think about 75% of the people there are female, but obviously that means 25% are male," he noted.
"If you want to do it - don't fear it, the only thing to fear is fear itself."
The charity says it is looking to recruit at least 20 new adult placement carers in the coming weeks.
But it stressed that the roles and work do not need to be full-time care, like the Jones.
One of its carers is Claire Hobson from Dyserth in Denbighshire looks after two elderly ladies at her home just once a week.
"It's very flexible and being a mother with three children I can work around my job," she said.
"I think it is a very important thing to be doing within the community and it's a much needed service that we need to offer our elder generation."
The service is certainly appreciated by elderly widow Doris Firmstone, who is one of the ladies in Mrs Hobson's weekly care.
"It's lovely for me because I don't get out a lot," she said.
"Clare is marvellous - how she can seem to get us to different places of interest, and looking round the shops.
"She's such a capable person - it's a pleasure to meet up with her."
Anyone who wants more information on possible adult placement roles with PSS can contact the charity through its website, email: walescarers@pss.org.uk or on 01745 828000.
Related Internet Links
The BBC is not responsible for the content of external sites.