Rhyl OAP catches milk thieves with washing liquid trick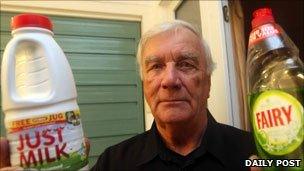 Two men were caught stealing milk from a doorstep by a Denbighshire pensioner who turned sleuth to catch them.
Fed up due to a number of milk thefts, James Jones, 72, from Rhyl, rigged a dummy bottle with water and washing up liquid and sat in wait.
Once he saw the bottle disappear from outside his window, he alerted police, and says he saw one man discard his bottle after tasting his concoction.
Llandudno magistrates fined two men £85 with £100 costs and 83p compensation.
"I decided to catch the beggars," said retired electricity board worker Mr Jones.
He explained that last week he prepared his own milk bottle, using it to replace his fresh milk supply after it was delivered at about 0520 GMT.
Then he sat in his lounge from where he could watch through the glass door, keeping an eye on the bottle. Within half an hour, he saw an arm appear and the bottle was gone.
"I was up, out of the chair and opened the front door and shouted and they were off down the street," he said.
"They stopped and turned around and looked at me and one took a swig and then threw the bottle high in the air."
Mr Jones then informed the police.
Mark Mayne, 23, and Peter Biggins, 25, both unemployed and of Rhyl, admitted stealing two litres of milk, and the bottle of washing up liquid, which was poured away.