Apology over Swansea club's 'suicide bomber' drink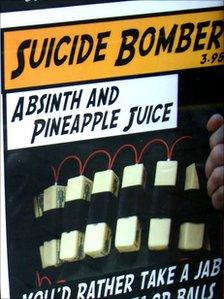 A Swansea bar serving a cocktail drink called a 'Suicide Bomber' has apologised after being accused of "insensitivity."
The advert in the window of The Lounge in Wind Street advertises the drink with a mock image of a person wearing an explosive-packed vest.
The director of the Swansea Bay Race Equality Council said it went beyond a poor joke and wants it taken down.
The bar said they did not mean to cause any offence or to upset anyone.
The cocktail is part of a promotion for bomb-themed drinks, alongside 'Skittle Bomb', 'Cherry Bomb' and 'Melon Bomb'.
Taha Idris, director of Swansea Bay Race Equality Council, said: "I just can't believe that anyone could be so insensitive with all that is going on in the world.
"In this nation we are proud of a sense of humour, that this is beyond a joke. It is ludicrous.
"It exploits the plight of those who have suffered at the hands of bombers.
"I really am hopeful that this poster will be taken down."
A spokesman for the bar said the drinks menu had been in place since the summer and they had not had any complaints before.
"It was meant to be humorous because of the strength of the drink which contains absinth," he said.
"If anyone has taken offence I apologise. There was no intention whatsoever to upset anyone."
He said he would now look to change the name of the cocktail.
Related Internet Links
The BBC is not responsible for the content of external sites.