Warning of snow as freeze returns in Wales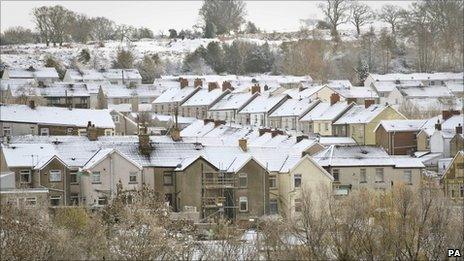 There are warnings of dangerous road conditions and disruption to services with heavy snow expected to fall overnight.
Snow showers are predicted in many areas on Thursday night and into Friday with temperatures dropping as low as -15C (5F) by the weekend.
The north, west and south-west are likely to be worst hit overnight, with 5-10cm (2-4in) of snow in places.
Drifting is likely with strong winds and blizzards in some high areas.
The deepest snow is likely in Snowdonia with 20cm (8in) possible by early on Friday.
Heavier snow is forecast on Saturday with 5-10cm (2-4in) expected widely, and the possibility of 20-25cm in places (8-12in).
The news comes as two councils in north Wales have decided to put less salt on the roads to make supplies go further.
Deputy First Minister Ieuan Wyn Jones warned drivers of the dangers associated with travelling in poor weather conditions.
He said: "I would advise drivers to be extremely mindful of the conditions, as well as other road users, and to take extra special care when driving at night.
"This can be particularly dangerous and everyone should exercise caution when undertaking journeys in the dark, where the hidden dangers of black ice and non-gritted roads are prevalent."
He said the assembly government and its partners in local authorities had been "preparing extensively" for conditions such as these for the past 12 months.
Tim Peppin of the Welsh Local Government Association said councils were "coping reasonably well" in managing their salt stocks.
"A couple of areas have been highlighted where stocks are running down most quickly and steps have been taken to prioritise deliveries to these areas," he added.
Conwy and Denbighshire councils have decided to reduce the amount of salt they put on the roads to make supplies go further.
They were among five councils in north Wales which have been looking again at the amount of salt they use, and at the industry standard that they have been following for the last five years.
Stuart Davies, head of highways in Conwy and Denbighshire, told BBC Radio Wales' Good Morning Wales they were taking "reasonable measures to try and preserve the stock".
"We have been hit very early on with very difficult conditions," he said.
"We have put more stock in Denbighshire and Conwy than we have in any other year but, saying that, we've used more stock at this point in the year than we have in any other year as well.
"We haven't taken a risky approach at all. There is some guidance which the Welsh assembly have issued and we made sure we were still within the parameters set there.
"We certainly don't feel it is a risk strategy."