Milford Haven and Holyhead coastguard stations to close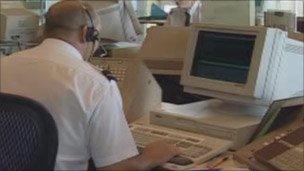 Holyhead and Milford Haven coastguard stations are set to close leaving Wales with just one base in Mumbles near Swansea, the UK government has said.
Mumbles will only operate in daylight hours under plans to cut the stations from 18 to eight, with only three open 24 hours a day.
MP Albert Owen said the Holyhead closure would "put lives at risk".
There are currently 23 posts at Milford Haven, 28 posts at Swansea and 23 posts at Holyhead.
Under proposals outlined by Shipping Minister Mike Penning, there will be three 24-hour operational centres - at Aberdeen, in the Southampton/Portsmouth area and at Dover.
In addition, there will be five sub-centres open during daylight hours - at Swansea, at Falmouth in Cornwall, at Humber in Yorkshire and at either Belfast or Liverpool and at either Stornoway or Shetland in Scotland.
Mr Penning said: "Our seas are becoming busier, with larger ships and increasing numbers of offshore renewable energy platforms making key areas of our seas more congested.
"There are also increasing numbers of people using our beaches, coastlines and seas for leisure activities.
"The current organisation of the coastguard - which dates back some 40 years - is not well placed to respond to these challenges."
Launching a 14-week consultation, the minister said Milford Haven would close in 2012/13 and Holyhead a year later with their function transferred to the new Maritime Operations Centres.
Mumbles, which covers much of the Bristol Channel, would become a sub-centre in 2013-14.
Mr Owen, Labour MP for Ynys Mon, said it made "no sense" to have no coastguard station between Swansea and Liverpool.
"These cuts are dangerous. In a week we have seen our court service massacred we see a hatchet job done on our coastguard stations.
"It is doing away with local skills and expertise and will put the public at risk.
"At a time when coastal tourism is being boosted, the cover given by local coastguard stations is being reduced."
Preseli Pembrokeshire MP Stephen Crabb, who is a government whip, said he had "serious concerns" about plans to shut Milford Haven.
"I accept that reform of the system is overdue but it is vital that the quality and safety of the front-line service is not compromised."
He said he had met the minister this week and would seek further discussions after talking to coastguards and other interested parties in Pembrokeshire during the consultation period.
"I am particularly anxious about the prospect of job losses at the Milford Haven station," he added.
"Everything must be done to minimise compulsory redundancies."
Anglesey AM and Deputy First Minister Ieuan Wyn Jones said: "I am extremely disappointed that the Westminster government have announced a proposal to close the Holyhead coastguard station and leave north and west Wales without this service, a decision which is bound to put lives in danger.
"I will be fighting this decision and in the consultation. I will be stating clearly how important it is that we continue to have this service in Holyhead."
Anglesey council leader Councillor Clive McGregor said Holyhead coastguard station, with the RNLI and RAF search and rescue helicopter, was "invaluable" in ensure Anglesey's coast was kept safe.
He said: "Any decision to close Holyhead coastguard station would have grave safety implications for both the Anglesey coastline and further afield."
An announcement about the sell-off of search and rescue helicopters has been postponed.
Related Internet Links
The BBC is not responsible for the content of external sites.