Musical 'lease of life' for Swansea singer Lyn Mackay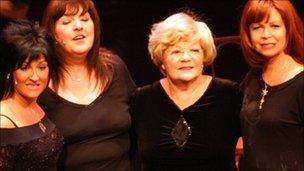 Lyn Mackay is used to the high life as a globe-trotting singer-songwriter who once had John Travolta and the king of Sweden squabbling over her.
Her second musical, Swansea Women, has finished playing to packed audiences at the city's Grand Theatre, following on from the success of Swansea Girls two years ago, and will be back for a second run in 2011.
She says writing the musicals - with plans for a third, Swansea Jacks - has given her "a new lease of life" since she reached 50.
Swansea Girls starred the writer, as well as Menna Trussler, who featured in both the BBC-produced soap Pobol Y Cwm on S4C, and the BBC comedy Little Britain.
It told the story of the four Swansea girls who each found themselves at a crossroads in their lives, facing the dilemma of whether to follow their hearts in the theatre, or succumb to the realities of life.
It spawned three prequels, tracing the life stories of the main characters up to that point. The first, Swansea Women, follows an aspiring actress, Dolores, as she struggles to make a name for herself in the 1940s.
It has received critical acclaim, with Theatre Wales saying: "From toe-tapping big band numbers to touching ballads, Lyn Mackay expertly steered the audience's emotions from the heights to the depths."
"It's been huge on YouTube as far afield as Canada and Australia. There are little Swansea in-jokes, but the struggle between ambition and practicality is something which people all over the world can relate to."
But she is no stranger to success. During the 1970s and 80s her singing career took her all over the world as a session musician for EMI, as well as stints in Ronnie Scott's jazz club, The Playboy Club and as resident pianist for a chain of hotel piano-bars in Sweden.
It was during her time in Stockholm that Lyn made it on the front page back home in Swansea, much to the embarrassment of her mother.
"In 1978 we were all invited to the Swedish premier of Grease, and it was just one of those nights which got totally out of control."
She said she danced with actor John Travolta, and did not even recognise him and then had a dance and "a bit of a snog" with the king of Sweden.
"Well I'd only got snapped by some photographer, and the picture ended up on the front of the Evening Post back home! I didn't half get a row off my Mam when she went out to get the paper!"
Swansea Women is back for a second run in the city's Grand theate in 2011, and in 2012 she hopes to launch the third in the series, Swansea Jacks, depicting the life of her own character, Maggie, as the swinging '60s arrive.
She admits, a little reluctantly, that the tale is somewhat autobiographical.
"In Swansea Girls Maggie is feeling a bit jilted, ruing missed opportunities and thinking that life is passing her by."
"By Swansea Jacks you can see how exciting her life was, as Swansea got back on its feet after the war."
"At the time I wrote it I suppose I was feeling a bit like Maggie. I was working as a music teacher in a comprehensive, and don't get me wrong, I was loving it, but it was a far cry from playing Ronnie Scott's and touring Europe and the Middle East."
"But since I've turned 50 and started working on the musicals, I've had a new lease of life. I suppose the lesson is, if you think life is passing you by, then do something about it."
Related Internet Links
The BBC is not responsible for the content of external sites.