Snow chaos set to continue into the weekend in Wales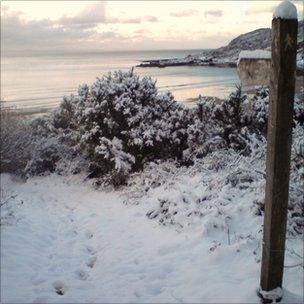 Further snow is set to cause more disruption into the weekend with warnings about treacherous road conditions amid plunging temperatures.
Snow and icy conditions overnight are likely to cause travel problems, with sporting fixtures also set to be hit.
The assembly government said it had enough grit stocks to divert to badly-affected areas to keep roads open.
On Friday, about 900 schools in Wales were closed with major disruptions to roads and public transport.
With persistent snow and icy conditions set to continue into Saturday, the assembly government announced it had invoked its 24-hour Wales-wide "snow desk".
The gritting and snow plough service, run by the South Wales Trunk Road Agency, prioritises work and is aimed at keeping roads open.
An assembly government spokesperson said: "Updates suggest that we have sufficient supplies of salt for our roads for the foreseeable future.
"Approximately 5,000 tonnes were imported last week with a further 12,000 tonnes due to arrive on or around Christmas Day."
A Welsh Local Government Association (WLGA) spokesperson confirmed that the extra salt deliveries were due on Boxing Day and would be prioritised to councils in the south Wales valleys, including Carmarthenshire.
"Due to heavy snow fall affecting many parts of Wales over the last 24 hours, levels of salt are inevitably dropping as a result of more treatment needed to roads," said the spokesperson.
"The WLGA is keeping a very close eye on the situation and is in daily contact with local authorities over their supply levels."
Deputy First Minister and Transport Minister, Ieuan Wyn Jones, appealed to the public to limit travel to essential journeys with the bad weather expected to continue over the next few days.
His plea came as the weekend's sporting fixtures became victims of the weather.
Cardiff City's Championship home game against Burnley was called off, but Swansea City's match at Sheffield United is expected to be played.
Ospreys say their Heineken Cup game against Munster on Saturday is going ahead.
All Welsh Premiership rugby fixtures have been postponed and Welsh Premier football fixtures are in doubt.
Cardiff council said its cemetery sites will remain closed all day on Saturday.
A spokesperson said a decision would be made on Saturday evening as to whether the cemeteries would reopen on Sunday.
Related Internet Links
The BBC is not responsible for the content of external sites.