Plea to health staff after more heavy snow in Wales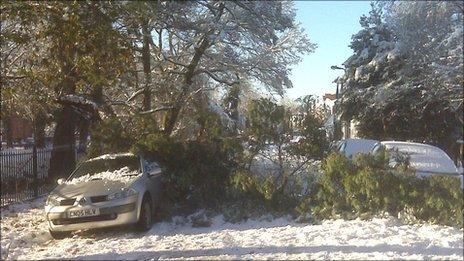 More heavy snow overnight across much of Wales has brought new problems, with some hospitals appealing to off-duty staff to work if they can.
The assembly government urged people to travel "only if absolutely necessary" after up to 20cm (8in) fell in some areas, with 5-10cm (2-4in) elsewhere.
Members of the public with 4x4 vehicles were asked to drive health workers in after many were stuck at home.
More snow showers are forecast to ease off, but it will remain very cold.
An assembly government spokesperson said: "We would urge the public to travel only if absolutely necessary. Should a person need to make a journey please take extra care in treacherous conditions."
Officials said they were doing everyrthing to "avoid significant disruption" and urged people to use its services such as Traffic Wales to check road conditions.
Officials are concerned about road closures due to broken down and abandoned vehicles, as well as jack-knifed HGVs. Abandoned vehicles are being checked to ensure that people are not stranded.
Some health boards urged employees to get in touch if they can help out over the weekend.
Managers at the University Hospital of Wales in Cardiff and University Hospital Llandough said staff due to work over the weekend may not be able to get in.
Employees who live locally and can reach work safely are asked to contact their usual ward or clinic in the first instance, or 029 20745221.
Cwm Taf Health Board urged employees at the Royal Glamorgan Hospital, Llantrisant, and Prince Charles Hospital, Merthyr, to get in touch if they live within a "reasonable radius".
Members of the public with 4x4 vehicles have also been asked to help by transporting Cwm Taf staff to work if they can. They are asked to call 01443 443443, ext 6173.
Royal Glamorgan staff should call 01443 443443, ext 6023, and Prince Charles staff should call 01685 721721.
Ysbyty Gwynedd, Bangor, also asked 4X4 owners to bring in nurses. Anyone who can help should call 01248 384384.
Hospitals said staff were working hard to maintain normal service, and most out-of-hours services and wards are operating normally thanks to some staff staying overnight to ensure they could reach work on Saturday morning.
On one floor of Nevill Hall hospital in Abergavenny at least seven workers stayed overnight.
Staff at Neath Port Talbot Hospital worked hard to clear ice and snow, and its head of operations, Karl Murray, said: "We're just about keeping our head above water at the moment. Despite the difficult conditions our staff have busted a gut to get in and services are running as normal."
The Bryn Llifon nursing home in Bangor, Gwynedd, asked anyone with a 4x4 to get in touch if they could pick up staff.
The home has a number of staff willing to work but unable to get in. It can be contacted on 01248 351 058.
Coastguard rescue teams helped the NHS, with the Loughor and Rhossili teams transporting seven key medical staff, including two midwives, to Morriston Hospital, Swansea, and a duty doctor from Aberystwyth was taken to Dolgellau Hospital.
Bus company First Cymru cancelled many services across south and west Wales, and National Express services from Swansea were also suspended.
Rhondda Cynon Taf council appealed to anyone with a snow plough or similar equipment to clear roads and pavements to contact 01443 494700.
Dyfed-Powys Police advised against non-essential travel in their area.
The A487 between Aberaeron and Aberystwyth was closed to all vehicles, there was a foot of snow on the A44 from Aberystwyth and Llangurig, and the A484 from Cardigan to Newcastle Emlyn was described as passable only in 4x4 vehicles and with extreme care.
The Ogwen Valley Mountain Rescue team helped the ambulance service in north Wales reach difficult locations, while Swansea and Milford Haven coastguard 4x4s also helped ambulance staff and local hospitals get people into work.
No trains were running between Cardiff International Airport and Bridgend, and no replacement road transport was available.
The Welsh Assembly Government said it had enough grit stocks to divert to badly-affected areas to keep roads open.
On Friday the assembly government announced it had invoked its 24-hour Wales-wide "snow desk".
The gritting and snow plough service, run by the South Wales Trunk Road Agency, prioritises work and is aimed at keeping roads open.
The assembly government said it had enough salt for the foreseeable future, with 5,000 tonnes imported last week with a further 12,000 tonnes due to arrive on or around Christmas Day.
Sporting fixtures have fallen victim, with Monday's fixture at the Ffos Las racecourse in Carmarthenshire already called off.
The Cardiff City Championship home game against Burnley was off but the Swansea City match at Sheffield United went ahead, although the visitors lost 1-0.
All Welsh Premiership rugby fixtures were postponed.
Cardiff council said all its gated parks and cemeteries closed on Saturday. The city centre Winter Wonderland near the City Hall reopened at midday, and waste collections will restart "as soon as possible".
The National Museums of Wales asked people to contact their sites before visiting, with many activities cancelled.
Neath Port Talbot council cancelled all Saturday's Santa deer feeding events in Margam Park.
People with tickets can contact the Margam Park office on Monday on 01639 881635 to either get a refund or accommodate them on one of the other deer feeds.
Related Internet Links
The BBC is not responsible for the content of external sites.