'Black Friday' night out and sales in Wales hit by snow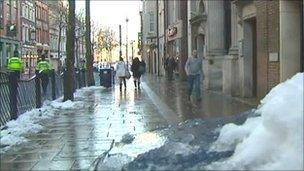 Bars and businesses in Wales are counting the cost as one of the busiest weekends of the year appeared to fall flat after the snow white-out.
Emergency services were ready for "Black Friday", the last Friday after a normal working day before Christmas.
But while tens of thousands of revellers were expected in city and town centres, the weather put a dampener on festive high jinks.
Firms also reported a dip in sales as conditions kept many shoppers at home.
Swansea had been expecting to host more than two dozen coachloads of staff from the city's Driver and Vehicle Licensing Agency (DVLA) to hold their Christmas party on Friday.
But the day out was cancelled as snow led the DVLA to tell its staff to stay at home on Friday.
Normally, city centre pubs and bars in Swansea can expect to see up to 20,000 people on Black Friday.
Cardiff city centre can see an estimated 300,000 shoppers and party-goers on the last full shopping Friday before Christmas.
But Estelle Hitchon, from Cardiff and Vale University Health Board, said the accident and emergency department at the University Hospital of Wales was much quieter than expected.
She said: "There were plenty of attendances, some of those alcohol-fuelled as you would expect, but nothing like people would expect to see on a normal Black Friday."
The second cold snap of the winter, which has hit Wales much harder than the first, has had a similar effect on retailers.
In Merthyr Tyfdil, all the stores at Cyfarthfa Retail Park closed their doors early on Friday as blocked roads kept customers away.
Richard Dodd, from the British Retail Consortium, said: "There's no question this weather will reduce shopper numbers this weekend.
"We would normally have expected this to be the busiest shopping weekend of the entire year.
"Many retailers were counting on that happening as many of them have seen their sales really seriously undermined so far this month.
"They were hoping to make up for that this weekend, and now we've had this awful re-visitation from the terrible weather, that has called all that into question."
He said he hoped for "a little window of opportunity in the days just before Christmas" with people determined to do some "catch-up shopping" later on in the week.