Ribble Valley MP Nigel Evans 'didn't want to live lie'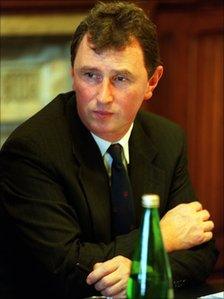 A deputy Commons Speaker who has come out as gay says he no longer wanted to "live a lie".
Ribble Valley MP Nigel Evans, who is from Swansea, says it was hard enough growing up in Wales as a Conservative, "let alone being gay".
Mr Evans, 53, said he wanted to be open about his sexuality.
He discussed it with former Wales rugby captain Gareth Thomas, who came out a year ago, and he realised "it should be no big deal for me".
Mr Evans is backing an initiative by charity Stonewall to support gay politicians and Westminster staff. He becomes the 22nd openly gay MP in the current House of Commons.
One of them, Labour Rhondda MP Chris Bryant has said that Mr Evans's sexuality was "an open secret in Parliament for years".
Mr Evans claimed in the Mail on Sunday that a Labour MP - who he did not name - had been threatening to "out" him.
He said a fellow Tory MP had also asked if he should include his name on a list of the most powerful gay politicians.
Mr Evans said: "I thought, this is just daft. I am not going to live a lie any more."
He said the Labour MP had been "saying to anyone who would listen, 'Why is it that Nigel Evans leads a life whereby he is gay to some people and not others?' "
"I could not afford it to be used as leverage against me. I couldn't take the risk. I don't want any other MP to face that kind of nastiness again."
"I am sure there are other gay MPs who would like to be open about their sexuality but are fearful of the consequences. I hope this new group will help them to do so."
Mr Evans grew up in Swansea, graduating in politics from the city's University College and joined the Conservatives when he was 17.
He told the newspaper that as a youngster it was "hard enough being a Tory, let alone being gay" in his home city.
He said the former Wales rugby union and British Lions captain Gareth Thomas, a celebrity acquaintance, had helped him in his decision.
Thomas, who won 100 caps for Wales and three for the Lions, who was married, came out in December last year.
Related Internet Links
The BBC is not responsible for the content of external sites.