Lib Dem sorry for Twitter 'cretin' insult to minister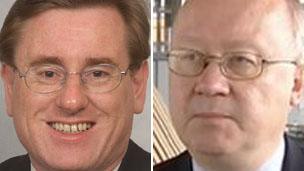 A Welsh Liberal Democrat AM has apologised to Labour Education Minister Leighton Andrews for calling him a "cretin" in a row on Twitter.
Peter Black was attacking a leaflet produced by Yes For Wales, which supports further Welsh assembly powers, and is co-ordinated by Mr Andrews.
Mr Black said his remark was "in the heat of the moment and inappropriate".
Mr Andrews called the campaign "a model of cross-party co-operation" and said he would "leave it at that".
Their argument on the social networking site flared after Mr Black, who represents South Wales West, criticised claims in the leaflet. A referendum will be held on the issue on 3 March next year.
Mr Black also wrote on his blog that there was a danger the Yes campaign would turn into a "crusade" against the Conservative-Lib Dem UK coalition government.
The minister pointed out to Mr Black that the leaflet had also been approved by the Lib Dems and called his actions "amateur".
When Mr Black apologised for his "cretin" comment, Mr Andrews tweeted that he accepted that.
But the minister added that Mr Black's "language was an absolute disgrace, and your apology should be far more widely shared".
Mr Andrews told BBC Wales: "The Yes for Wales campaign has been a model of cross-party co-operation.
"I understand that Peter Black has now publicly apologised for his comments and I will leave it at that".
Mr Black said: "I apologised for calling him a cretin, but I haven't apologised for the other comments because I believe the leaflet was ill-advised."
But Mr Black said he did not think it was "anyone's interests to have further disagreements" and they should be working in the interests of Wales.
Yes campaigners argue that the system for making laws affecting Wales is "slow and complicated" because it has to be approved in Westminster, and say time and money is being wasted.
The No campaign is led by True Wales, which is opposed to full law-making powers for the assembly, and believes a Yes vote would lead to more public spending and the "slippery slope to separation from the UK".
Related Internet Links
The BBC is not responsible for the content of external sites.