Labour's Ed Miliband urges 'yes' Wales referendum vote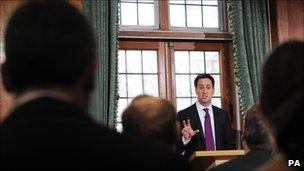 Labour leader Ed Miliband has urged party members to deliver a "yes" vote in next spring's referendum on greater powers for the Welsh assembly.
Mr Miliband claimed the proposals will help the assembly become more democratic and accountable to the people of Wales.
The True Wales no campaign said he had "failed to understand the dangers of devolution".
The referendum is due to take place on 3 March.
Speaking to BBC Wales, the Labour leader said it was time to build on the achievements of devolution.
"I think that devolution has been a success," he said.
"The next step is about Wales not having to come to London when it wants to make changes within the devolved policy areas but being able to make the changes itself.
"It's a better system, it's a fairer system, and I think it's a system that respects Wales."
Mr Miliband praised the Labour-led administration in Cardiff Bay for "showing the way" in areas such as the foundation stage of nursery education, and its decision to subsidise tuition fees for students from Wales.
He dismissed the likely impact of internet spats involving Education Minister Leighton Andrews and other leaders of the Yes campaign.
"We are fighting a positive campaign about how Wales can benefit from approving this referendum in March," he said.
"I think it's the right thing to do for Wales and then it's on to the Welsh Assembly Government elections which are very important elections in Wales, about who is the next first minister of Wales, obviously very much hope Carwyn Jones is re-elected."
A spokeswoman for True Wales, the no campaign said: "There are many Labour Party members who disagree with the party's attitude towards devolution. They believe there is no need to have more powers.
"Mr Miliband has totally failed to understand the dangers of devolution. He has also betrayed the principle of the need for common legislation and services for the people of Wales and England."