Welsh universities 'to be cut by half by 2013'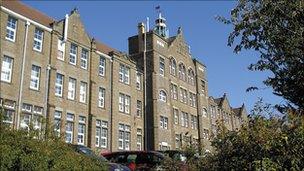 There should be no more than six universities in Wales by 2013, an assembly government sponsored body says.
The Higher Education Funding Council for Wales (HEFCW) said the current 11 institutions should be reduced to make the sector sustainable.
Discussions on how to achieve it will take place in the new year.
Welsh Education Minister Leighton Andrews recently warned universities they must "adapt or die".
But student leaders said they had concerns changes could reduce choice and should not lead to cuts.
HEFCW's Prof Philip Gummett said the reduction in numbers would help universities compete in the 21st Century.
The body is responsible for administering funds from the Welsh Assembly Government for higher education institutions.
Its report said by 2013 distribution should reflect regional needs with no more than two institutions per region.
However, it said it accepted new institutions needed to retain a number of satellite bases.
No more than two universities should have an income below the UK median and neither of these should be located in south east Wales, the report suggested.
HEFCW chief executive Prof Gummett said: "We have not until now been so explicit in our expectations for the structure of higher education in Wales, preferring the sector to come forward with proposals. But we have been asked to give a clearer lead.
"We believe that the approach that we have outlined will make the sector the strongest and most sustainable it can be in order to compete in the 21st Century for students, for research funding, for business contracts, and so on."
Katie Dalton, President of National Union of Students in Wales, said the report came as "no surprise" but it had concerns on two fronts.
"It is absolutely imperative that the Welsh higher education sector maintains its diversity, bearing in mind that different students need different types of institutions," she said.
"Mergers should not lead to cuts in delivery or reduced access for less mobile students.
"Any campus closures and cuts to local provision could impact on disabled students, those with caring responsibilities and the poorest students who cannot afford to move away for university."
Higher Education Wales, which represents the university sector in Wales, said the policy on reconfiguration and collaboration was "well understood by university leaders."
A spokesperson added: "A number of institutions are implementing or discussing structural change."
The University of Wales, Newport, said if there were only six universities in Wales in the future, it "made sense" for one of them to be based in Gwent.
In a statement it said it already worked closely with other universities but added it would "pursue any option that enables it to continue to play a proactive role in the ongoing social, cultural and economic development of the Gwent region."
There have been a number of university mergers in Wales in the past six years.
Cardiff University and University of Wales College of Medicine merged in 2004, the Royal Welsh College of Music and Drama joined the University of Glamorgan Group in 2007 and the University of Wales, Lampeter, and Trinity University College, Carmarthen, joined forces this year.
Earlier this month an agreement in principle to create a single new university for South West Wales (University of Wales Trinity Saint David and Swansea Metropolitan University) was announced.
Education Minister Leighton Andrews told the Institute of Welsh Affairs' conference in December that their future funding, including being allowed to charge higher tuition fees, would depend on a willingness to "progress swiftly to merger and reconfiguration".
Related Internet Links
The BBC is not responsible for the content of external sites.