Former staff upset and angry about firm's liquidation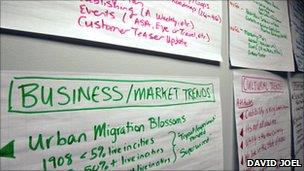 Staff at one of the first bilingual public relations companies in Wales said they are unhappy and angry about the way the business was wound up.
Strata Matrix, with offices in Aberystwyth and Cardiff, went into voluntary liquidation on 24 November leaving 12 people redundant.
One former employee accused the directors of showing "a lack of respect" for the staff.
Founder Wyn Melville-Jones said he was sorry about their disappointment.
It is understood the company was wound up a day before salaries were due to be paid.
BBC Wales has also been told that two bills were paid in full to companies a week before staff salaries were due.
Former employees are also angry that one of the directors obtained new employment only days after Strata Matrix folded, while other employees face an uncertain future.
BBC Wales has obtained a list of creditors for Strata Matrix, showing debts of at least £200,000.
A creditors' meeting, held yesterday in Llandrindod Wells, was described by one former member of staff as being "very tense and angry".
Staff have told BBC Wales that they did not get answers to their questions about the collapse of the company.
Antur Teifi is a social enterprise which was established in 1979 to assist the development of the local economy in the Teifi Valley region of west Wales.
Strata Matrix owes £3,707.13 to Antur Teifi, and £2,589 to Telemat, a trading department of the Enterprise Agency Antur Teifi.
One contract formerly being run by Strata Matrix is now being run by Antur Teifi.
One of the directors of Strata Matrix, Arwyn Davies, started work at Antur Teifi a few days after Strata Matrix folded.
Antur Teifi is now responsible for the public relations contract for the Tomorrow's Wales campaign, which was formerly run by Strata Matrix.
Tomorrow's Wales plans to campaign in support of a 'Yes' vote in the referendum on further law-making powers for the Welsh Assembly.
Wyn Melville-Jones, chairman and founder of Strata Matrix, told BBC Wales that he gave a interview when the company collapsed and that he could not make any further comment about financial matters as they were now in the hands of the Insolvency Practitioner.
He said that he was sorry to hear that former members of staff were disappointed with the way the company was wound up.
The Insolvency Practitioner appointed to deal with Strata Matrix's affairs, Kenneth Wright, has said he will consider any issues raised by employees as part of his work over the next few weeks.