Wales staff to leave New York Chrysler building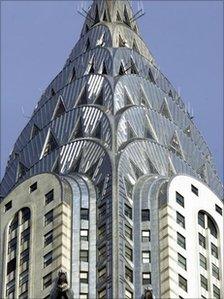 Welsh Assembly Government staff are to move out of New York's iconic Chrysler building and into British Consulate offices to save cash.
The eight employees will go to Third Avenue in a switch ministers say will save £62,000 over the next six months.
The assembly government is reviewing many of its overseas offices in Europe, China, Australia, Dubai, Hong Kong, Bangalore, Delhi, and Tokyo.
The Chrysler building office cost has been reported as £1.97m for 2009/10.
It has been reported the total cost of running the existing overseas offices was £5.3m in the same period.
The assembly government says its New York office aims to promote Wales in North America as well as encourage investment in to Wales.
Ministers saythe office has worked with Amazon, Virgin Atlantic, IBM and Conduit, among others, on expanding their operations in Wales.
Deputy First Minister Ieuan Wyn Jones said: "This move is a win-win situation, strengthening our ability to attract investment and business to Wales and save money.
"It will make our overseas operations more effective, allowing staff to work more closely with UK trade and investment teams which are also based in the British Consulate buildings.
"It also means a more effective use of our resources given the current economic climate."
Last month the assembly government confirmed it was reviewing all its overseas offices to "ensure that Wales is well represented globally".
Related Internet Links
The BBC is not responsible for the content of external sites.