The changing face of education in 2010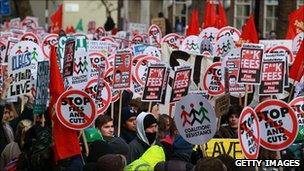 "No ifs, no buts, no education cuts."
The chant echoed around town and city centres the length and breadth of the country as protest after protest was held in opposition to tuition fee increases.
It was a year dominated by youthful demonstrations with school children skipping class to stand alongside students.
In England, the resentment continues after parliament voted for tuition fees of up to £9,000 a year.
But in Wales there was an "if", a "but" and an "education cut", and yet the majority of students and all the political parties were placated.
"If" you are a student living in Wales you will pay no more for a university education in future than you do now.
"But" if you are from elsewhere in the UK, you will pay up to £9,000 a year at Welsh universities from September 2012.
An "education cut" of 35% to university budgets will pay for the eye-catching new policy.
Its viability depends also on significant numbers of English students continuing to study in Wales when the fees go up.
Sections of the UK press complained of "education apartheid," something the president of the National Union of Students in Wales, Katie Dalton, finds unhelpful.
"I think the way it was reported by those publications was disgraceful," she said.
"The use of the word apartheid is disgusting when we're talking about higher education tuition fees.
"But you know what, this is a political decision by two different governments who have very different ideologies and the one in Wales has luckily chosen to continue state funding for higher education."
When the new fees regime kicks in, however, there may be significantly fewer universities around.
In June and again in December, Education Minister, Leighton Andrews, issued an ultimatum to universities - "Adapt or die".
He wants mergers between institutions, creating fewer but stronger universities.
Late in December the Higher Education Funding Council for Wales outlined the details.
There will be six universities by March 2013, down from ten.
Smaller institutions face a battle for survival as the plans are for just two universities to remain in the mid and north, south west and south east.
Glyndwr University in Wrexham, the University of Wales, Newport and the University of Wales Institute, Cardiff look particularly vulnerable.
Prof Aled Jones, Pro Vice Chancellor at Aberystwyth University, says the sector "can cope" with the minister's demands.
"It's a wake up call I guess and we take anything the minister says very seriously indeed," he said.
"But we're also confident that with what we have in terms of the quality of people, the facilities and our research strength in Wales, we can actually move ahead and meet the challenges the minister has set for us."
If the minister had strong words for universities, he had stronger words for schools and teachers.
The Programme for International Student Assessment (PISA) found Welsh school children lagging behind their peers in the UK and much of the world when they were published in December.
Mr Andrews said there was "systemic failure" in the school system, after the assessments put Welsh 15-year-olds below the UK and international averages in reading, maths and science.
"We cannot tolerate complacency in the classroom," he said.
Iwan Guy, Acting Director of the National Association of Headteachers (NAHT) Wales, said teachers were "not very happy" about the minister's comments.
"He has now said he is going to make a statement in February, giving time for people to reflect," he said.
"He has asked for input from schools on the situation - whether he will listen or not, time will tell.
"But it's not a time to throw the baby out with the bath water."
And finally, two contenders for most bizarre education story of the year.
In November, a major BBC Wales investigation found a Malaysian pop star with two bogus degrees running a college offering University of Wales degrees.
The university suspended its links with the college pending an investigation.
Closer to home in August, a Carmarthenshire school with a head teacher, a dinner lady and a caretaker planned to open after the summer holidays despite having no pupils.
Ysgol Capel Iwan, near Newcastle Emlyn, was set to continue business as usual in September even though all its pupils had left, because Carmarthenshire council had failed to complete the statutory school closure process.
The education minister called it a "bonkers" decision.
Reflecting, Iwan Guy of the NAHT Wales, said it made the country something of a "laughing stock" in the national press.
"It just highlights that mistakes were made at a local authority level in not following the correct legal procedures that were required to close a school," he said.
"New guidance has been introduced since then and I don't think we'll be seeing anymore cases like this in 2011."
Related Internet Links
The BBC is not responsible for the content of external sites.