Drivers in Wales warned on Christmas getaway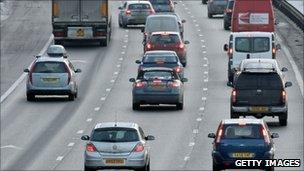 Motorists in Wales have been warned to take extra care on the roads as the Christmas getaway reaches a peak during more freezing weather.
With an "exceptionally cold" Christmas Eve night forecast, drivers are warned to check conditions both where they are and the forecast for the whole route.
The assembly government says a "significant amount" of salt is on the way soon to keep main routes clear.
Retailers hoped for a surge of shoppers on the last day before Christmas.
The Met Office said temperatures would go low as -15C (5F) early on Christmas Day, with a widespread frost, which will be severe inland.
Deputy First Minister Ieuan Wyn Jones said a review of current stocks showed enough grit to keep trunk roads open throughout Christmas.
Earlier in the week the Welsh Local Government Association warned that stocks were dwindling.
"As well as the remaining stocks of salt that we hold throughout Wales, there are also significant quantities purchased and due for delivery over the coming days and weeks," Mr Jones said.
Temperatures plunged once again overnight, with Traswscoed, Ceredigion, experiencing the lowest in Wales at -11C (12F).
Forecasters say if temperatures remain low, Wales will be on course for its coldest December since 1894.
The cold snap continues to affect the transport network.
Train operator First Great Western was planning a full service between south Wales and Paddington after cancelling a quarter of its trains between London and south Wales on Thursday.
On the roads, Tim Shallcross, spokesman in Wales for the Institute of Advanced Motorists, advised drivers to plan their getaway.
"Don't be fooled into complacency by the weather where you are, check all the way along the route," he said.
"Stick with the main roads, they will be the ones that are gritted.
"That's really important as in some areas the temperature is going just above freezing during the day.
"That leads to snow melting off the fields, it runs across the road and then freezes so there will be a lot of black ice on the roads."
Meanwhile, retailers across Wales are hoping for a last-minute rush.
Russell Lawson, public affairs manager at the Federation of Small Businesses, said many retailers were planning to open on Boxing Day, despite it falling on a Sunday, to make up for lost trade.
"In Wales retail trade for November was down 0.7% on last year," he said.
"That's telling because you would have expected people in November to be buying big ticket items such as washing machines, dishwashers, microwaves, even carpets and curtains in advance of the VAT rise in January.
"I think because of the difficult trading conditions you'll find a lot of retailers will open on Boxing Day even though it's on a Sunday, whereas they might not have started their sales until later."
Kevin Critchley, manager of Eagle Meadows shopping centre in Wrexham said it would be open on Boxing Day.
He said a number of retailers including Debenhams and Topshop were starting their sales on Boxing Day.
Mr Critchley added that trade at the shopping centre, which opened in 2008, had been steady throughout the Christmas period despite the snow.
"I think our key to success was that we planned for the bad weather," he said.
"Back in May we started talking about how we could prepare for Christmas.
"We bought in grit and when the snow came we had staff clearing the snow and laying out grit to make the centre welcoming for shoppers.
"It seemed to work - one shopper said to me that the centre had done well because the snow had passed us. I said it hadn't, we'd just cleared it away!
"In a way, we have also benefited from the snow as previously many people from Wrexham may have driven to Chester, Shrewsbury or Liverpool to shop.
"But when it snows people are even more likely to shop closer to home."
Related Internet Links
The BBC is not responsible for the content of external sites.