'Significant' extra grit on way for roads in Wales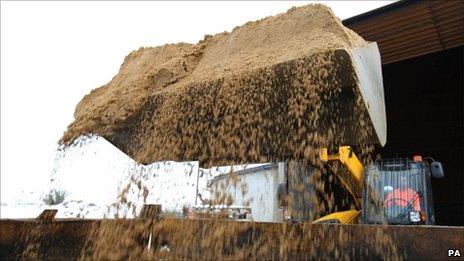 Drivers have been reassured that "significant quantities" of rock salt should reach Wales soon in the fight to keep main routes clear of snow and ice.
Deputy First Minister Ieuan Wyn Jones said a review of current stocks showed enough grit to keep trunk roads open throughout Christmas.
Earlier in the week the Welsh Local Government Association warned that stocks were dwindling.
The assembly government will share stocks with councils in most need.
"As well as the remaining stocks of salt that we hold throughout Wales, there are also significant quantities purchased and due for delivery over the coming days and weeks," Mr Jones said.
"These additional stocks were ordered well in advance of the current period of severe weather."
The assembly government said it had also asked officials to continue sourcing new stocks of rock salt.
"I and my officials have been in regular contact with Wales' local authorities and worked together with them to ensure that all our efforts during such exceptionally bad weather are co-ordinated," added Mr Jones.
He said the assembly government had recently allocated 900 tonnes of gritting salt to Carmarthenshire, 500 tonnes to Pembrokeshire and a further 1,000 tonnes to north Wales.
"There are clearly pressures on the system, and it is essential that we use every opportunity we can to reduce these pressures," said Mr Jones.
Meanwhile, the assembly government also announced it is to help fund councils' efforts to help homeless people during the winter weather, with £110,000 to help cover the cost of emergency shelters.
Deputy Housing Minister Jocelyn Davies said: "Sleeping rough is difficult enough at the best of times, but the freezing temperatures, snow and ice we are experiencing at the moment means it is particularly dangerous.
"I want all local authorities to help people find the shelter and other assistance they need so that they are not at risk from the extreme weather.
"I also urge the public to contact their local authority if they know of people sleeping outside so that they can get help to them."
Related Internet Links
The BBC is not responsible for the content of external sites.