Weather 'puts restaurants in Wales at risk' - survey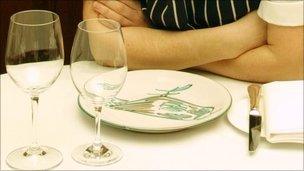 Many of Wales' leading independent restaurants fear they will not survive next year following the "devastating" impact of the bad weather.
Most of the restaurants depend on Christmas takings to survive but the weather has badly hit bookings.
A survey of over 100 establishments by a restaurant organisation suggests millions has been lost in revenue.
There are fears the effects of the bad weather could potentially lead to hundreds of job losses.
Dine Out Wales' managing director Victoria O'Connell said: "Unlike other businesses which can retain stock and recapture sales, restaurants have simply lost custom which cannot be recovered.
"With so many local restaurants depending on Christmas takings to underpin survival, the damage done cannot be underestimated, nor repaired.
"Trading conditions were already tough, with national chains undercutting local restaurant prices, risking the demise of a vibrant local food culture which is important to the tourism industry, local agriculture, and to the diversity and quality of life in Wales."
Dine Out Wales is a scheme to help Welsh independent restaurants and includes some of the best in the country including Michelin-starred establishments.
Its survey found that only four out of 10 restaurants were confident they would survive through 2011.
The weather has led to 40% of bookings being cancelled with up to £10m revenue lost, and £1m lost in food produce which cannot be used or returned.
Mike Caplan, owner of the Fig Tree restaurant in Penarth, Vale of Glamorgan, said he had been hit hard by the bad weather.
"We've just had cancellation after cancellation. We've gone down to 20 [diners] from 60 - we're less than 50% - and lunches where we expect to be full, we did two people yesterday," he said.
"We've lost at least £1,500 a day for the last two weeks and I'm having to lay staff off."
He said he was looking at the possibility of setting up a second business outside the restaurant trade to offset any downturns.
The survey was of more than 100 restaurants who participate in the Dine Out Wales scheme.
Related Internet Links
The BBC is not responsible for the content of external sites.