Archbishop of Wales' concern over happiness index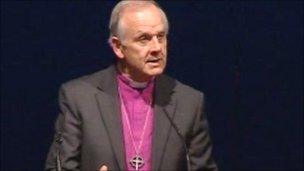 Surveys trying to measure happiness can make us selfish, introspective and dissatisfied, says the Archbishop of Wales, Dr Barry Morgan.
He said in his Christmas sermon that UK government plans to monitor mood would "encourage people to dwell on their own needs" rather than others.
He said the country would be happier if it learnt to put others first.
Prime Minister David Cameron has said measuring well-being could focus policy on "things that make life worthwhile".
Dr Morgan said in his Christmas Day sermon at Llandaff Cathedral, Cardiff, that happiness could be derived from treating other people with fairness and compassion rather than dwelling on our own needs.
"The claim of the gospel is that when that happens, not only do we reflect God's nature and become more fully the kind of people God wants us to become, but we also become truly fulfilled and happy human beings," he said.
"And the government needs to take all that into account in its attempt to quantify happiness.
"The danger with its survey is that it could pander to the worst kind of selfishness and individualism.
"Am I happy with what I am earning? Am I happy with where I am living? Am I happy with my status? It can all become so inward-looking and introspective."
Mr Cameron said last month that he wanted a better measure of how the country was doing than Gross Domestic Product (GDP).
From April, the Office for National Statistics will ask people to rate their well-being, with the first official happiness index due in 2012.
Mr Cameron quoted US senator Robert Kennedy, who said GDP measured everything "except that which makes life worthwhile", and said the information gathered would help Britain re-evaluate its priorities in life.
"You cannot capture happiness on a spreadsheet any more than you can bottle it - and if anyone was trying to reduce the whole spectrum of human happiness into one snapshot statistic I would be the first to roll my eyes," he said.
Dr Morgan said that societies did not get happier as they became richer.
"A recent Oxfam survey has shown that happiness at Christmas comes down to quite simple things such as enjoying time off work to spend with friends and family," he said.
"The truth is that the things we think make for happiness, seldom do."