Police in terror plot meeting with Muslim community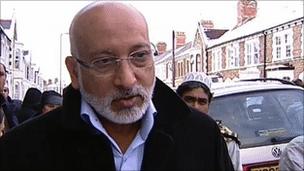 Police have met Muslims at a Cardiff mosque to discuss the arrests of five men in the city suspected of terrorism offences.
Properties across Cardiff have been searched by officers after dawn raids on Monday, when 12 arrests were made in total across the UK.
There was disquiet among some of those at the mosque about the arrests.
But the Muslim Council of Wales said the police visit was "reassuring" to the community.
Of the 12 men were arrested during the anti-terrorist operation, four others were from Stoke-on-Trent and three from London.
They were detained on suspicion of the commission, preparation or instigation of an act of terrorism in the UK.
Police met community leaders at the Jalalia Mosque and Islamic Education Centre in Riverside, Cardiff, on Friday.
Saleem Kidwai, of the Muslim Council of Wales, welcomed the visit, and said: "The chief inspector came in the mosque and talked to the community just to reassure them that we are all in this together and we have to deal with this together," he said.
Some members of the Muslim community said they were concerned about the arrests.
One, who did not wish to be named, said: "Of course we're concerned about the arrests.
"Tomorrow it could be my door being kicked down, or any other Muslim's door being kicked down, without no-one even defending them or speaking up for them.
"It's our duty really as Muslims to defend and speak up for the truth.
Earlier this week, South Wales Police asked for the patience of all communities in Cardiff.
Assistant chief constable Matt Jukes said on Tuesday: "I am grateful to all communities in Cardiff for their continued patience and assistance as addresses continue to be searched by specialist officers.
"We anticipate those searches will take some time to complete.
"Public safety remains the priority for police and we continue to engage with all communities and businesses to provide reassurance and advice.
"I would encourage the public to carry on with their daily lives.
"However, it should be remembered that the current threat level in the UK remains at 'severe', meaning an attack is highly likely, so people are asked to remain vigilant and report anything suspicious to the police."
Related Internet Links
The BBC is not responsible for the content of external sites.