'Get vaccinated' flu call after rise in cases in Wales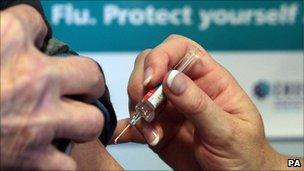 Assembly government officials say at-risk patients should get vaccinated against flu, after increases in cases across Wales.
GPs are reporting 92 cases per 100,000 of the Welsh population - up from 82 last week.
Health officials say the cases of the illness remain typical for the time of year.
However, at-risk groups, including pregnant women are being asked to get immunised if they have not done so.
"We have made clear that people in seasonal flu at-risk groups, including pregnant women, are at a higher risk of complications from seasonal flu, and the best protection is vaccination," said a spokesperson for the assembly government.
"A press and publicity campaign has been running since October and has included television, radio and bus adverts to ensure that people know if they are in an at-risk group and that the vaccine is available free of charge from the GP.
"We continue to strongly advise all those in the at-risk groups to get vaccinated if they have not already."
One of the main concerns for health officials has been the number of people contracting swine flu strains of the disease, H1N1.
In the UK, 27 people have died from flu this season, of which nine were children. Among the fatalities, 24 had swine flu.
However, the H1N1 swine flu strain is protected against in the current seasonal flu vaccination.
"It's the end of an extremely cold and unpleasant December and we would be expecting to see more flu at this time of year anyway, but certainly the numbers do appear to be going up" said Dr David Bailey, chairman of the British Medical Association's GP committee in Wales.
"I think the problem has been that a lot more people are getting seriously ill with it, and certainly the pressure on intensive care units has been significantly greater."
"Of course - that is one of the things that is covered in the immunisation."
Related Internet Links
The BBC is not responsible for the content of external sites.