Children's charity marks century in Wales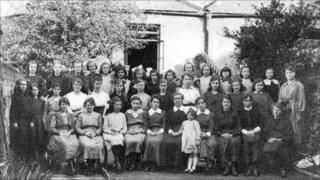 A charity that started out in Wales by aiding homeless girls in Cardiff is marking 100 years of helping vulnerable children.
Action for Children opened the doors of its first Welsh home in Cardiff on 2 January, 1911.
The building on Newport Road was known as the National Children's Home Wales.
A plaque to mark the the start of its mission in Wales is being unveiled on the building where it all began on Tuesday.
The charity started life in 1869, founded by the Methodist minister, Thomas Bowman Stephenson.
He was concerned with the living conditions of children and was determined to provide a safe haven in his London parish where he persuaded his peers to open the first children's home in Cardiff.
"The unveiling of the heritage plaque marks a very significant milestone in the long and rich history of Action for Children Wales," said the charity's strategic director for children's services in Wales, Jan Leightley.
"Minister Thomas Bowman Stephenson's vision and passion for helping vulnerable young people remains firmly rooted in everything Action for Children does today - and we will continue to speak out for vulnerable and neglected children for as long as it takes."
When 85 Newport Road opened its doors in 1911 it took in 13 girls.
It was aimed at those who had profound social difficulties or had become homeless, and the home and its neighbouring property houses a small laundry to provide work for those above school age to work.
By the start of the World War I, the home was looking after 36 girls.
Many of those who made their way through the doors came into the care of the ordained sisters who worked for the charity.
The last of those, Sister Eluned is joining the centenary celebrations.
"The centenary is a wonderful opportunity to reflect on many years of devotion to helping the needs of vulnerable children," said Sister Eluned.
Now 75, she has spent 44 years working for the charity, more than half of that in Wales.
"The homes were a place of safety, comfort and stability for many hundreds of children and provided them with meaningful experiences and the skills to prepare them for adulthood," she recalled.
"More importantly, we encouraged them to be fully integrated into the life of the local community by joining youth clubs, horse riding, gymnastic clubs, deep-sea diving, swimming - wherever their potential lay.
"This was an integral part of our philosophy."
The charity still maintains strong links in Wales, working with around 15,000 young people and children and their families.
The property that started it all off is now the site of a retirement home, managed by the Wales and West Housing Association.
But it still retains its link to the charity - it is called Stephenson Court, after the minister who founded it.
"The history of this site is very significant for social justice in Wales," said Anne Hinchey, chief executive of the housing association.
"It goes without saying that we're delighted to be able to host Action for Children Wales' first centenary event here at our Stephenson Court."