Liverpool hospital 'ban' for Welsh heart patients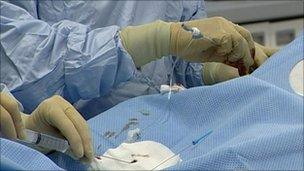 A Merseyside hospital says it will no longer accept north Wales patients for heart and chest complaints, unless it is medically urgent.
Liverpool Heart and Chest Hospital officials said it is because of a shortfall in funding from Wales.
The hospital staff said they are in "almost daily" talks with the Betsi Cadwaladr University Health Board over the issue.
The board said it is working closely with the hospital on the matter.
But officials at the hospital have stressed that the number of Welsh patients who have had surgery this year has far exceeded the financial contract agreed with the Betsi Cadwaladr board.
Letters explaining the situation have been sent to GPs across north Wales.
The hospital's Associate Director of Service Development Paul Rushton said the number of Welsh patients who had had operations in the first seven months of the current contract period was "well over" the agreed figure, but he could not give precise details.
He said the hospital's finance director was in "almost daily" talks with the health board to try to secure an agreement on future funding.
The hospital has been carrying out up to 70 pre-planned "elective" operations a month on Welsh patients and dealing with up to 50 urgent cases.
The hospital specialises in cardiac surgery, upper gastrointestinal conditions, respiratory medicine and adult cystic fibrosis.
In a statement, the NHS Foundation Trust which runs the hospital said: "LHCH is committed to the provision of excellent care for all patients.
"Our patients come predominantly from Merseyside, Cheshire and north Wales and we make no distinction between these geographic areas when delivering treatment.
"However, to protect the provision of this care for all patients we must maintain a strong financial footing, meaning that we cannot afford to subsidise any one group of patients.
"We cannot provide free care so we actively work with our commissioners to ensure adequate funding is available to cover the cost of the treatment we are asked to provide.
"We are continuing to treat all urgent cases from north Wales, but are currently awaiting permission from the north Wales commissioners that they want us to provide treatment to their patients over and above that which is contracted."
Responding, a spokesperson for the Betsi Cadwaladr University Health Board said: "The health board is working closely with the Liverpool Heart and Chest Hospital regarding services for Welsh patients.
"We would like to reassure all north Wales patients that anyone requiring urgent or emergency cardiac care will receive this as usual at Liverpool."
Related Internet Links
The BBC is not responsible for the content of external sites.