About 250 homes now without water in Wales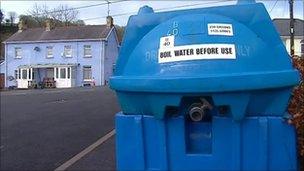 There are now about 200 homes without water in Powys as engineers continue to work around the clock to restore supplies.
Welsh Water said the customers still affected were north of Rhayader and they hoped to restore their supplies later.
Last week, 2,000 properties in Llandrindod Wells, and thousands more across Wales, were affected.
About 50 properties in Carmarthenshire are still without supply.
Welsh Water said it has been dealing with an "unprecedented" number of burst pipes due to freezing conditions.
It said it is making "good progress" with repairs, and admits there are more isolated problems elsewhere.
In Powys, operations director Peter Perry said engineers are "expending every effort today to get these customers back on supply".
Later on Saturday Mr Perry said they were "in a greatly improved position" and "almost back to business as normal now".
"We still have about 200 customers off in mid Wales, north of Rhayader...We're very hopeful of getting those back on this evening," he said.
Mr Perry said between 40 and 50 homes maximum are affected by "air locking" in Carmarthenshire and engineers were still working to resolve this.
He offered apologies to those customers who have been affected.
Mr Perry said there were still isolated problems in rural areas across Wales.
"We are also very much aware that there are isolated incidents of supply loss affecting single or small numbers of customers across the region.
"We are doing all we can to follow these up and we are looking to contact customers today to resolve these issues. I would urge customers in these circumstances not to hesitate to contact us again if necessary."
In Llandrindod Wells, Welsh Water has made available bottled water at Hundred House common - near the recycling centre - and Glascwm village centre.
Homes in Cregrina, Frankbridge, Glascwm and Hundred House are suffering from low pressure caused by mains leaks.
In addition, engineers are "tankering" water into a local reservoir which is designed to improve pressure to help supplies return to normal.
As communities continue to be affected in Rhayader, bottled water is also being available from Sun Inn, St Harmon, and Mid Wales Inn, Pant-Y-Dwr.
Related Internet Links
The BBC is not responsible for the content of external sites.