Girl, 13, rescues sisters from Penrhyn Bay house fire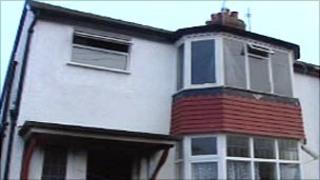 A 13-year-old-girl has been praised as "extremely brave" for rescuing her two younger sisters from a house fire in Conwy.
The teenager, named locally as Alishaa Williams, threw a laptop through a window and helped the girls, aged eight and 18 months, to safety.
Officers said she stayed "extemely calm" in the emergency at Penrhyn Bay near Llandudno.
Three adults, rescued by fire crews, were badly hurt.
Neighbours had been beaten back by smoke at 00.30 GMT, Monday, trying to reach them in upstairs bedrooms.
North Wales Fire and Rescue Service said the children were all sleeping in a downstairs bedroom of the semi-detached house in Trafford Park, when the eldest girl was woken by a smoke alarm.
The adults - the mother, 32, and her two friends, a 32-year-old woman and a 38-year-old man - were upstairs.
The mother is described as being in a "serious but stable" condition while her two friends are said to be "critical".
The girl was praised for staying calm after speaking to the fire control.
Alyn Edwards, of the fire service, said the girl then used a laptop computer - a gift for Christmas - to smash a window and help the eight-year-old get out.
'A chance'
She then passed the baby to her younger sister through the window before breaking another window to make her own escape.
"Her actions certainly gave the family a chance of getting out of the property," Mr Edwards told BBC Wales.
"She was extremely brave, and she stayed extremely calm. You can't really put into words how proud everyone must be at her actions."
He said the three children were being checked at hospital but they were not believed to be seriously hurt. It is understood the baby is being kept in.
Firefighters wearing breathing apparatus entered the house three times through thick smoke to rescue the adults.
An investigation into the cause of the fire, which is believed to have started downstairs, is under way.
Taxi driver Raymond Jones, 50, who lives across the street was woken by his wife who had heard breaking glass.
When he got outside, he saw the three children outside and went across the road and kicked the door in.
But he and neighbour Gaz Owen were driven back by the thick smoke.
His son David, 21, tried unsuccessfully to smash an upstairs window with a rock.
Ray Jones then fetched a ladder from his home to try to reach the upstairs windows but at this stage, the fire service arrived and took over.
Five fire crews from Colwyn Bay, Rhyl and Llandudno attended the incident.
Gary Brandrick, senior operations manager at the fire service, said: "The children were alerted to the fire by a smoke alarm.
"We carried out a home fire safety check at the address in September 2010, when we fitted two smoke alarms and advised the family of fire safety precautions they should take - such as testing the smoke alarms regularly, the importance of having a night time routine and of formulating a family escape plan."