Merthyr Tydfil £400m waste energy plant plan submitted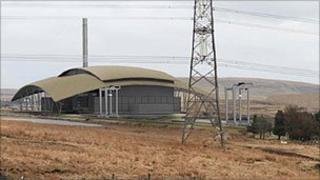 Plans have been submitted for a £400m energy-from-waste generating station near Merthyr Tydfil.
The Brig y Cwm plant, which developers say could create 650 construction jobs, is going to the Infrastructure Planning Commission (IPC) for a decision.
Covanta Energy says it will generate enough energy to power all the homes in Merthyr Tydfil and Caerphilly areas.
But Friends of the Earth claimed it would "completely undermine" efforts to cut waste and boost recycling.
The IPC - the independent body that examines applications for nationally significant projects ranging from railways to power stations - has a month to decide on the plan.
It would then go out to further consultation before a final go-ahead as part of a process take up to a year, with a further three years before the plant is ready to open.
Covanta has already held consultation days in the Merthyr area last year, and reduced the size of the proposed site, west of Fochriw and next to the Ffos-y-Fran opencast mine site.
The company was also due to take into account concerns over emissions, smell and dust, traffic and disposal of bottom ash to include in its environmental statement.
The plant, which aims to employ 65 people permanently, would take approximately 750,000 tonnes of non-recyclable household and business waste - mostly by rail - each year.
It would generate about 70MW of electricity, enough to power up to 180,000 homes.
But Friends of the Earth's planning campaigner Mike Birkin said it was "terrible news".
"This huge waste plant will need to burn thousands of tonnes of valuable resources every year to make it cost-effective, and this will completely undermine efforts to cut waste and boost recycling," he said.
"Because incineration creates far fewer jobs than recycling it would have an impact on local employment too.
"The government must not allow the new fast-track planning systems to dump this waste incinerator on the people of Merthyr."
The company said the size of the plant would bring efficiencies including offering "significantly lower" costs to councils and businesses than smaller-sized plants.
Spokesman Robin Treacher said the plant would only deal with non-recycled waste, from both the municipal sector and business in Wales.
The latest proposals follow plans for the £120m Enviroparks waste-to-energy plant at Hirwaun, Rhondda Cynon Taf, and the Viridor plant being given the go-ahead at Splott in Cardiff.
Five local councils in south east Wales are looking at tenders from companies interested in processing black bag waste from Vale of Glamorgan, Cardiff, Caerphilly, Newport and Monmouthshire.
A proposal by Sterecycle to build a 200,000 tonne-a-year capacity premises near Wentloog in eastern Cardiff has also been given planning permission and will feature a non-burning approach to waste.