Pupils 'ban' on buying food outside school suggested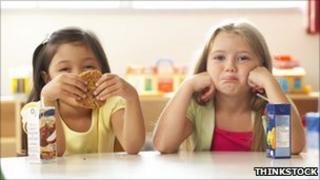 Schools in Wales should ban pupils from buying food outside their grounds, says a major study into school meals.
Schools should make it clear that crisps and a drink is no longer an acceptable lunch, according to the Appetite for Life report.
Nine schools in Wales acted as pilots to find out how the assembly government's school meals action plan can be rolled out across the country.
Education Minister Leighton Andrews welcomed the findings.
The assembly government will now work at implementing the findings of the report, said a spokesperson.
The researchers, from the University of Bath, said they found that the withdrawal of some unhealthy foods such as sausage rolls or confectionary caused tension among pupils and canteen staff.
'Importance of good food'
The report revealed that school food providers were torn between the feeling that this did not make commercial sense when competing with high street outlets.
Some pupils resented the fact that they as consumers were denied the right to choose the kind of foods they wanted.
But Education Minister Leighton Andrews said there was a need for school canteens to be seen as an extension of the classroom and not as competition with high street food outlets.
"We know the importance of good food in helping children and young people concentrate and achieve during the school day," he said.
"This report clearly identifies the need for the school canteen to be seen as an extension of the classroom, something that is integral to our children's education.
"Our draft budget shows our continued commitment to the health and wellbeing of school pupils through programmes aimed at improving our children and young people's diet and reducing health inequalities.
"The findings of the Appetite for Life project will help inform how we continue to take forward our agenda for improving food and drink provided in schools in Wales."
The two-year research project was carried out at nine unnamed primary and secondary schools in Ceredigion, Merthyr Tydfil, Torfaen and Wrexham.
The report, which makes 28 recommendations, found that cookery lessons should be used to pilot new dishes and warned of the health consequences of poor eating.
Researchers said that canteens should encourage pupils to be more involved in the design of menus and the cooking of food as there is evidence that this could have a positive influences on what is then cooked at home.
The researchers concluded that the draft guidance given to schools as part of the Appetite for Life programme needs to be rebalanced so that school food should be the extension of a lesson on how to eat and drink well.
'Browbeaten'
But they said the canteen should be "reconceptualised" as a fun experience, co-produced with children and young people instead of a service simply delivered to them.
They said schools should get help in setting clear boundaries which restrict choice in order to make clear that "a bag of crisps and a drink, or a bowl of plain pasta is no longer an acceptable lunch time meal".
Jenny Randerson, Welsh Liberal Democrat AM for Cardiff Central succeeded in getting legislation on healthy school food passed in October 2009 but it has not yet taken effect.
Ms Randerson said she hoped this would happen following the findings of the Appetite for Life research.
"I strongly welcome the fact that there is decisive action being taken in relation to school meals.
"Pupils being allowed to buy food outside of school undermines the good work of teachers when it comes to educating pupils about healthy eating.
"it might sound draconian but banning pupils from going outside school grounds to get food seems to be the answer.
"I also think that headteachers will welcome the backing of the government in this area.
"Having visited a number of schools for healthy eating initiatives, I have heard from headteachers who were browbeaten by parents into allowing vendors onto the school site selling junk food.
"This simply undermines the phenomonal efforts of school catering services who are trying to provide healthy options and teachers who are educating pupils about healthy eating."