Students moving onto £35m riverside campus in Newport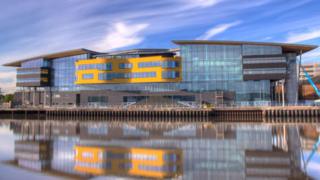 Students at the University of Wales, Newport are moving into their new £35m city centre campus on Monday.
The riverside building was completed on budget and ahead of schedule at the end of last year.
It will house 2,700 students from Newport Business School and much of the school of art's media and design department.
Staff worked over the Christmas break to ensure that the facility was ready in time for the start of term.
The investment was funded by the university, Newport City Council and the Welsh Assembly Government and is seen as being an important feature of the city centre's regeneration.
Part of it is being funded by the selling off of the old Allt-yr-yn campus.
'Absolute commitment'
Dr Peter Noyes, the university's vice-chancellor, called it "one of the proudest days in the history of the university."
He added: "It complements perfectly the stunning Caerleon campus and movement between the two campuses will be encouraged for all at university."
The new building includes an exhibition space and cafe.
"This building is not just for our students and staff," said Dr Noyes. "Today signals our absolute commitment to the people and communities of Newport and the wider Gwent region. This building will act as a driver for economic growth across our region.
"It belongs as much to the people of south Wales as it does to our students."
The opening is a culmination of almost a decade of planning, as the university developed expansion plans. It is the first phase of a £50m development.
The new building features a "hothouse" at its centre, intended to bring together artists, business researchers and entrepreneurs to work together on new ideas, surrounded by computer, digital labs and graphic studios.
Work finally began in June 2008 on the building, alongside the river Usk, with the aim of dealing with a 12% rise in student numbers.
Film director Ken Russell, a visiting professor at the university's film school, left his handprints and autograph in concrete on the site to mark the start of the building work.