Administrators meet to discuss Diamond Coaches takeover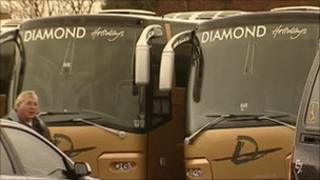 Administrators will hold meetings later to discuss a possible takeover of Diamond Coaches.
Wales' largest holiday coach operator, which offered day trips and package holidays across the UK and Europe collapsed on Friday.
Administrators PricewaterhouseCoopers (PwC) has received expressions of interest from several companies in taking over the Swansea-based business.
They include Edwards Coaches, based near Pontypridd in Rhondda Cynon Taf.
PwC has confirmed that the administrators will be holding meetings with "a number of potential interested parties" in the coming days.
The firm says no one will be given preferential treatment and all offers will be examined individually.
Hundreds of customers have been affected by the failure of Diamond, set up in 1954, which transported 80,000 passenger annually.
PwC have said customers who booked holidays with the company would be entitled to refunds, though they said the situation for day trip bookers was "less clear".
Rob Lewis, partner at PwC, said every Diamond customer will receive a call informing them of the situation about refunds.
Consumer organisation Which? said those who paid by credit card or Visa debit card might be able to obtain a refund through their card provider.