Welsh councils and businesses call for electrification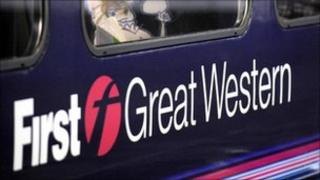 Around 80 south Wales political and business leaders have signed a petition calling for the electrification of the rail line from London to Swansea.
The Great Western Partnership's letter will tell UK transport minister Phillip Hammond it would provide an essential economic lifeline.
"The economic development argument is the key one for us," said the group.
The Department for Transport, which deferred its decision in November, said it had still to decide.
Last year the £600m electrification of the line was confirmed from London Paddington as far as Didcot, Oxfordshire.
At the time First Minister Carwyn Jones called the decision "disappointing" while Welsh transport minister Ieuan Wyn Jones accused the UK government of "sidelining" Wales.
Revealing details of the petition the UK transport minister, Dr Elizabeth Haywood, director of the South East Wales Economic Forum, said: "Phillip Hammond has himself said that good transport connectivity and fast rail services in those particular areas help those areas to prosper at the expense of other ones.
"And as we all know Wales is the only area of the UK without electrification.
"As everyone else speeds up there is a dreadful fear that we will end up being seen as even more peripheral than we already are."
Dr Haywood told BBC Radio Wales that the key thing about electrification was that it allowed the possibility of more frequent train services.
"Instead of the two (trains) an hour that we get now between Cardiff and London, we could end up with three an hour, perhaps with one which was very speedy," she said.
'Worth fighting for'
"That helps because it just makes it so much easier if you're trying to travel between London and Bristol and Cardiff and Swansea.
"If you talk to most businesses you will find that they are travelling on a fairly regular basis somewhere along that Great Western line, even if they don't go as far up as Paddington."
Despite the delay in the UK government's decision Dr Haywood insisted the issue was still very much alive.
"If they'd been making the decision that they were going to bin it they'd have binned it then and there, so it's worth fighting for.
"And certainly we continue to be told it's worth fighting for, otherwise we wouldn't have bothered to have written this letter and aim to get as many business and political individuals signing up to it as we possibly can."
Dr Haywood said signatories included council leaders from Cardiff, Newport, Bridgend, Swansea, Carmarthenshire and Pembrokeshire.
The Great Western Partnership is made up of a number of local authorities including Cardiff, Bristol and Swindon.The South East Wales Economic Forum is also a member.
Cardiff Council leader Rodney Berman said, "Electrification of the main line is a critical issue for the Cardiff city-region which is why we, along with Bristol and Swindon councils, formed the Great Western Partnership.
"This draft letter is an important opportunity for business people and others to add their weight to the campaign and enable us to impress on the Secretary of State for Transport the strength of feeling about the issue as well as clear arguments in favour of the investment."
Business organisations lending their support include the Confederation of British Industry (CBI), the Ferderation of Small Businesses, chambers of commerce, and individual businesses include Admiral, Legal & General, Chevron and Sony.
The petition also includes university vice-chancellors across south Wales, and political and business signatories from the west of England.
A Department for Transport spokesperson said: "We have not yet made any decisions about whether or not the Great Western Main Line will be electrified into Wales.
"The extent of further electrification for intercity services is dependent on the intercity train option we choose."