Welsh wrestler Mason Ryan is a stateside hit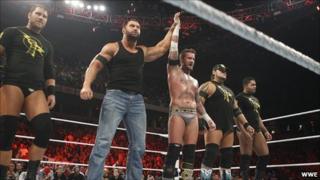 A Welsh wrestler who wants to be one of the biggest names in the world has made a spectacular television debut in the United States.
Barri Griffiths, alias Mason Ryan, from Gwynedd, gatecrashed the ring when the former world champion was fighting.
The 28-year-old was watched by millions of World Wrestling Entertainment (WWE) fans as he tackled John Cena.
Back in Tremadog, his parents said they "were very proud indeed, as any parent would be"
"He wants now to beat all of them, beat all the best and be number one in America. That's his aim from the beginning," said his father Malcolm.
Griffiths, who is known as Mason Ryan in the US, has slammed and bellowed his way through the wrestling ranks in just over three years.
He was taken under the wing of the late Welsh wrestling legend and promoter Orig Williams in 2007, and soon swapped working for the family's funeral director business for the wrestling ring.
Fighting under the name of Celtic Warrior, 6ft 6in (1.98m) Griffiths was later handed the name Goliath in Sky TV's Gladiators show.
He moved to Florida after signing a five-year contract with WWE, and was crowned Florida heavyweight champion last July.
"Moving on to America was a natural thing. So when the offer came to go to Florida he grabbed it with both hands," said his father.
On the anniversary of his move to the US, Griffiths stormed the ring of a live WWE Raw match on Monday, dressed in jeans and a T-shirt, and sporting a deep Florida sun tan.
He then set about wrestlers Cena and CM Punk - before being seen to kneel and accept an armband of allegiance from the Nexus group of fighters.
'Made a statement'
"What he has achieved in that time, I think a lot of people would be quite proud as it is - but that's not good enough for him, I know," added his father.
WWE broadcast to over 15 million viewers every week in the US and 145 other countries, which means Griffiths could soon be a household name across the world.
But for his mother Carys, the achievement is tempered by the brutal physical nature of his chosen career.
"I have to be honest when they are there in the ring and throwing all sorts of things about, well - it does make me a little bit nervous," she said.
But she remains delighted by her son's sporting progress.
"I think he has made a statement quite recently that he wants to conquer the world. Maybe that's his vision, that's his aim - hold your breath and see what happens."