Sales of cosmetic contact lenses 'could break law'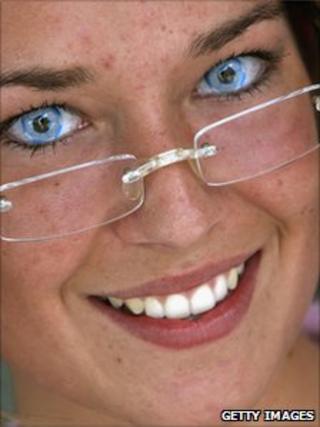 Shops selling cosmetic or coloured contact lenses could be breaking health rules, BBC Wales has discovered.
The General Optical Council says the lenses should only be sold under the supervision of an optometrist, dispensing optician or medical doctor.
The X-Ray programme went undercover at shops across south-east Wales to show how easy it was to buy the lenses.
Manufacturers of the products deny they are contact lenses and so do not come under the relevant law.
The lenses are popular music fans and film buffs inspired by stars like Lady Gaga and Marilyn Manson, and films like the Twilight Saga, to change the appearance of their eyes.
The law surrounding contact lens sales, The Opticians Act, was tightened in 2005 to control the sale of contact lenses which do not improve a wearer's vision.
This was after concerns were raised that people were buying them without suitable supervision, which can lead to serious eye conditions.
Anyone selling them without appropriate supervision risks a £5,000 fine and a criminal record.
X-Ray's secret footage of the cosmetic contact lens sales was shown to Dr Christine Purslow, senior lecturer at Cardiff University School of Optometry.
She said: "We thought that the legislation had dealt with this issue and closed a loophole that all eye care professionals recognised was there.
"I really didn't think this was happening."
Infections for wearers
Dr Purslow said she was concerned the unsupervised sales could lead to problems like infections for wearers, who may not have appropriate advice from sales assistants about how to wear and care of the lenses.
She said: "They are like the stilettos of the contact lens world - nice for parties, they are nice for going out.
"There are very few of my colleagues that would advocate them to be worn as routinely as they are suggesting there, every day for a year."
The manufacturers of the products which X-Ray bought all deny that they are contact lenses and they say they do not come under the law which regulates contact lens sales.
They claim their products are polymer blanks or eye fashion accessories.
Dr Purslow disagrees.
"Given that it's a lens and it's going to go on the eye, this is a contact lens," she said. "And I think that nobody is going to say differently in my profession."
The manufacturers insist that they meet or exceed the requirements concerning the safe and legal supply of these products.
Some say they have taken expert advice regarding their products and provide forms to ensure customers are properly assessed by retailers before buying the lenses.
The General Optical Council has confirmed it considers the items being sold in these shops to be contact lenses.
The council said it has a duty to take action where there is evidence that contact lenses are being sold illegally, and that it might take action - including prosecution - where it felt it necessary.
X-Ray contacted the shops they bought lenses from.
Aberdare Party Supplies Limited and Allsorts Fancy Dress Shop in Caerphilly said they had been advised by their suppliers that the products were legal to sell.
But the shops have since removed all lenses from sale, and said they will not be selling them in the future.
Dunbar Costumes in Caerphilly and Cosmetics4U in Merthyr Tydfil referred X-Ray to their suppliers.
X-Ray is on BBC1 Wales on Monday 31 January 2011 at 1930 GMT.